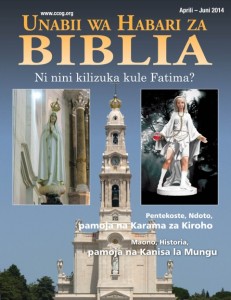 Here is a pdf link to the Kiswahili edition of  Aprili – Juni 2014 HABARI ZA UNABII WA BIBLIA.
Katika toleo hili:
3 Maono, Historia, pamoja na Kanisa la Mungu Je, Mungu hutumia maono? Je, Shetani hutumia maono? Ni kwa namna ipi maono yameubadiri ulimwengu?
10 Ni nini kilizuka kule Fatima? Ni nini kilizuka kule Fatima, Ureno mnamo1917? Hili ni kwa sababu gani linaumuhimu kwa sasa? Je, Fatima inatoa dalili kuhusu Shetani na mpango wake?
14 Jisomee Kozi ya Biblia Somo la 2: Hapa tunakuletea habari njema . . . UJUMBE uliotumwa toka Mbinguni. Hili ni somo la pili la Kozi ya kuwasaidia watu wajisomee na kuielewa vema Biblia.
24 Pentekoste, Ndoto, pamoja na Karama za Kiroho. Aina mbalimbali za karama za kiroho zimetajwa katika Biblia. Je, zipo zozote miongoni mwake ambazo ni dhahiri kwa sasa? Vipi kuhusu ndoto? Fasiri (fafanuzi), maarifa, utambuzi, na upendo ni nini?
31 Je, unavumilia hadi mwisho? Baadhi katika Kanisa la Mungu wananuia "kung'ang'ana" hadi Kristo atakaporudi. Kimtazamo wao, "WANAVUMILIA" hadi mwisho (Math. 24:13) – lakini siyo kwa namna ambayo Kristo alitaka.
33 Evans Ochieng na Kanisa la Continuing Church of God: Makala hii inatoa utambulisho juu ya Bwana Evans Ochieng, Mchungaji wa Kanisa la Continuing Church of God anayeishi nchini Kenya.
Jarada la Nyuma: Internet na Radio. Hili linaonyesha ni wapi watu wanaweza kuupata ujumbe kutoka Kanisa la Continuing Church of God.