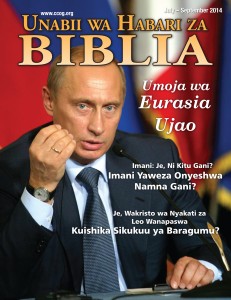 Here is a pdf link to the Kiswahili edition of BNP magazine Jul-Sept 2014  UNABII WA BIBLIA: Umoja wa Eurasia Ujao.
Katika toleo hili:
3 Umoja wa Eurasia Ujao (The Eurasian Union): Yapo makubaliano ya kuunda Umoja wa Nchi za Ulaya Mashariki na Asia (Eurasia) hapo itakapofika 2015. Ni kipi ambacho Biblia inaashiria kwamba Umoja huu ujao wa Eurasia utakifanya?
8 Kozi ya Jifunze Biblia Somo la 3: Kristo Atakomesha Maangamizi ya Ulimwengu  Hili ndilo somo la tatu la Kozi hii ya kuwasaidia watu wajifunze na kuielewa vema Biblia.
20 Je, Wakristo wa Nyakati za Leo Wanapaswa Kuishika Sikukuu ya Baragumu?  Wayahudi huiita "Rosh Hoshanah". Wengi wa wajiitao kuwa ni Wakristo siku hizi hawaishiki! Je, wewe unapaswa uishike? Je, inafundisha kitu gani?
27 Imani: Je, Ni Kitu Gani? Imani Yaweza Onyeshwa Namna Gani? Imani ni mojawapo ya mambo makuu ya sheria, lakini hasa Imani ni nini?
31 Ni Kwanini Watu Hupungukiwa Imani: Marehemu Herbert W. Armstrong analifafanua hili.
32 Hatua ya Mwisho ya Kazi: Kuifikia Africa Hatua ya mwisho ya kazi inayo maeneo mengi. Kanisa la Continuing Church of God liliendesha mkutano kwa viongozi huko
Jarada la Nyuma: Internet na Radio. Hili linaonyesha ni wapi watu wanaweza kuupata ujumbe kutoka Kanisa la Continuing Church of God.