Dear Brethren and Co-Workers in Christ:
Jay Chiang came over to the USA from China. While in California, he took the train up from the Los Angeles area and met with my wife Joyce and I in Grover Beach.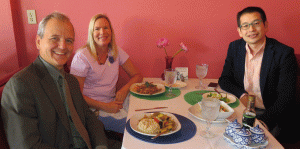 Bob & Joyce Thiel and Jay Chiang
We discussed matters related to him and China as well as matters related to the CCOG and the Feast of Tabernacles. We also discussed the internet and ways to better reach people. Throughout the year he often assists me by pointing out news items he believes may have prophetic ramifications. In China, he teaches at a school.
Jay Chiang was our first USA festival coordinator. Back in 2013, he had to open the Feast site in Santa Maria, California and run it the first few days while Joyce and I were supporting the Feast site in New Zealand. The remarkable thing was that he had never even been to the Feast of Tabernacles before. He has since assisted with our primary USA festival site (locations which have always varied) every year.
This year the primary site will be in San Diego, California, and Joyce and I will again be in New Zealand for the first half of the Feast of Tabernacles (we also plan a limited site in Wichita, Kansas). So, Jay Chiang will be working with Steve Dupuie to coordinate matters again this year.
The Feast of Tabernacles is coming up soon. Services for the Feast of Tabernacles will begin the evening of October 4th and continue until the Last Great Day which is October 12th in 2017. Information on the CCOG festival sites can be found in the following link: Feast of Tabernacles' Sites for 2017.
Speaking of early festival coordinators, our first festival coordinator in the Philippines, Oscar Mediavilla appears to be seriously ill and needs our prayers. The Feast of Tabernacles site in his area has been paid for and the festival is expected to be held there even if he is unable to personally attend.
Kenya Reports
We have received several reports from Kenya concerning fallout from last week's election. Many of our brethren are of the Luo tribe, and it was the candidate from that tribe that reportedly was lost. But he basically says that the vote was hacked and he won. This was caused problems and tensions in the Luo areas. Please pray for our brethren in Kenya.
On other matters, we received the following report:
We are fine in Kenya, Rift Valley.

I visited Mau for the past two weeks and worked with Pst. Stanley and as well plan for the feast of tabernacle.

We believe we will be having the feast of tabernacle in Mau, Bomet, Transmara East and Naswet Njoro All the churches are planing for the feast.

I talked with Pst. Evans Ochieng and he is fine.

Pray for us as we pray for you. God bless you

Pastor Sawek
Most of those in the Rift Valley who are with us, came within the last year or so. We are glad that they are continuing with us and planning multiple sites for the Feast of Tabernacles.
Dream Report
Many of you are aware that a two-part dream preceded the start of the old Radio Church of God and some dreams preceded the start of the Continuing Church of God (details are in the article Dreams, the Bible, the Radio Church of God, and the Continuing Church of God).
A while back, when I was last in Kenya, I was told that Frederick Ochieng had a dream related to the Continuing Church of God. He sent me an email on it that somehow never made to me, so he again sent information about it yesterday:
Dear pastor

Greetings pastor.  I believe you are doing good though you are having great thrust of fulfilling Matthew 28:19 of which we must do before the return of Christ. …

I had two dreams

1. Before our family joined CCOG my father was then working with voice in the Wilderness Church of God. When I was sleeping I had a dream and in my dream I saw a light and the light was not normal, the one who was standing by the was You pastor Bob according to my dream. Then I had voice shouting, "Arise you who are sleeping, for the Lord is near." I again I heard another voice shouting, "Come up Evans and let us do the work we are called to do." I then saw a man dressed in white clothes join hands with my father walking together towards a very big lake then I woke up.

2: In my second dream some weeks after my first dream and in my second dream I saw almost the same dream and now this was in New Zealand. I did not know about the CCOG group in New Zealand before I had the dream.

Fred
Related to the first part of the dream, his father, Evans Ochieng came with the Continuing Church of God in March of 2014–with him, etc. we had about 260 people in Africa. His father told me in 2017 that Frederick also said his dream showed that we would have much growth in Africa. As of late 2017, we have around 3000 in Africa. So, that part of the dream was confirmed.
As far as New Zealand goes, the first congregation that came with the CCOG was the group in New Zealand. When I asked Frederick Ochieng about New Zealand he said knew nothing about New Zealand and any connection with the CCOG prior to his dream. While we have not have much membership growth in New Zealand itself, those in New Zealand have been heavily involved in doing the work to reach people around the world. They have been the primary editors of our church publications, have developed a website, put up and managed our Bible News Prophecy Flipboard page, and have produced our Bible News Prophecy online radio. His dream may have been telling him that I (Bob Thiel) was working with those in New Zealand to help fulfill Matthew 24:14 and Matthew 28:19-20 to reach the world.
While few dreams are from God (cf. Ecclesiastes 5:7; Zechariah 10:2), the Bible shows that God has often used dreams (Genesis 20:3-7, 28:10-17, 31:10-13, 31:24, 37:5-10, 40:5-18, 41:1-32; Numbers 12:6; Judges 7:13-15; 1 Kings 3:5-15; Daniel 2:3-45, 4:4-27, 7:1-28; Matthew 1:20-25, 2:12, 2:13, 2:19, 2:22; Acts 16:9).
More on dreams can be found in the article: Dreams, the Bible, the Radio Church of God, and the Continuing Church of God.
Radio

Last week, I mentioned that I was  scheduled to be on the Nutri-Medical Report on the Republic Broadcasting Network (RBN) Friday, August 11th at 12:00 pm CDT.  The host and I discussed prophetic matters related to North Korea, the upcoming solar eclipse, and other matters.
Last week, I also mentioned that two in CCOG were on the radio in Kenya. This morning I received the following report:
Dear Evangelist Dr.Bob,

Due to election processes,I have delayed to inform you that Grantone and I went to Milambo FM on Monday 7/8/2017 for an interview on the events surrounding the second coming of Christ and then ushering of the millennial reign on the earth.

It went on successfully for the first 40 minutes and left 20mins for questions and answers.

We received both positive and negative reactions but the positive reactions overweighed the negative. Some claimed that we are a branch of the Jehovah's Witnesses. We thank God that through your prayers,doors are being open.We request for your prayers so that it may continue.

We are again scheduled to be on the interview again on Sunday morning.I mean on 20/8/2017.The exact time will be communicated to us by the radio presenter on Saturday afternoon.

Glory to God for your prayers and support with the materials that are so far helping us to fulfill Matthew 24:14 and 28:19-20.

Best regards,

Ondigo Ochieng.
Radio is one of the doors that is sometimes open for us to proclaim the good news of the kingdom of God and other truths in the Bible.
World News Items