Dear Brethren and Co-Workers in Christ:
Another full week here in Grover Beach, California.
Radio
There were two secular/commercial radio interviews scheduled for this week.
The first was yesterday on the Republic Broadcasting Network (RBN) at 2:00 pm Central Standard Time (12:00 PST) on the Nutri-Medical Report. The Republic Broadcasting Network has listeners in many nations around the world. The host and I discussed some items related to news events associated with the 6000/7000 year plan, US President-elect and Europe, and related prophecies.
The second is for Friday, December 9, 2016.  I am scheduled to be on Jeff Crouere's show Ringside politics with a punch. That would be on WGSO 990 AM, New Orleans, Louisiana at 10:30 am CST (8:30 am PST).  Jeff Crouere was an at-large delegate to the 2016 Republican Convention, and it is scheduled that we will be discussing the prophetic future and US President-elect Donald Trump.
Support from New Zealand and Elsewhere

While the Continuing Church of God is presently based in the USA, work is being done in many places throughout the world. Some of our literature, for example, has been translated in just over 100 languages.
Now, in the English language, we get several types of support from the brethren in New Zealand and elsewhere.
John Hickey, for example, edits the Bible News Prophecy magazine as well as our booklets. Furthermore, he sometimes makes recordings for the online Bible News Prophecy radio program, which is put together in New Zealand.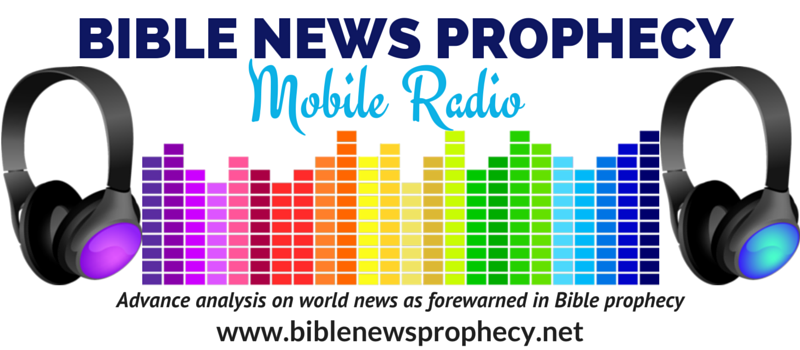 His wife, Shirley Gestro, is also heavily involved.  I asked her to send me a report on two of the of areas that those in New Zealand are managing in support of the fulfillment of Matthew 24:14 and Matthew 28:19-20. Here is what she sent:
Flipboard and BNP online radio update, 5 Dec 2016

Flipboard

There is a steady increase in viewers, followers and comments, many are highly interested in the following magazines; Origins & the Bible, News & Prophecy, The Arab and Islamic World in the Bible, History and Prophecy. There is also an interest growth in Anglo-America in Prophecy and the Lost Tribes of Israel, followed by One World Religion (Ecumenical/Interfaith) and Europa the Beast and Revelation.

Flipboard overall analytics show most viewed articles from the previous 30 days are:

>Islamic State threatens voters in the USA

>The Church of Rome understands some aspects of church history, but …,

>Did the early church hold to Continuing Church of God doctrines or those of the Roman Catholics, Eastern Orthodox, & Protestants?

>'How President Trump Could Actually Reduce Danger Of War In Europe For The U.S.' 'Make Europe great again'

>Donald Trump protested in USA and Europe.

Overall statistics also include:

Viewers/page views – 232,549

Followers – 3,352

>Magazines – 23

>Articles – 7,776

You can visit our Flipboard page here: https://flipboard.com/@ProphecyNews also available as an app on IOS and Android in magazine format.

BNP online radio

We continue to stream BNP items, CCOG sermons/sermonettes, COGwriter news items and short messages for church literature in audio form. Our primary speaker is Dr. Thiel with numerous bible prophecy content and in-depth biblical sermons. We have also been fortunate to stream sermons and sermonettes from Steve Dupuie, Jay Chang, John Hickey, Vince Patterson, Richard Close and Herb Haddon. Reporting news items is John Hickey, along with our recent news reporter Bill Wedekind who has kindly volunteered his help, has recorded several news items thus far. Short messages are recorded by Jay and Bill. Thank you to all our volunteers.

A few months ago, there were technical issues affecting our stream, it has been resolved. Since we persevered with the streaming company they gave us 1 GB free storage increase.  Due to this increase, we now have more Sermons streaming and space for other future church messages we are considering. The online radio is updated several times throughout the week with the latest BNP, Sermons and news reports, from time to time we add short messages for our new literature, and is accessible on various audio platforms, radio and rss directories.

The following information is collated data from our streaming server and multiple media avenues.

Analytical data from streaming solutions:

>Unique listeners: 23,458

>Countries: 160

>Total Listener Minutes: 2,625,589

>Hourly average: 144

>Listener trend (30 days): +17.97%

>User Agents/Devices: 32% listening via desktop, 68% using various mobile apps and media players.

BNP radio analytics from other media:

>Google +: 175,212 views                           https://plus.google.com/+BiblenewsprophecyNet

>Pinterest: 5,920 avg monthly viewers        https://nz.pinterest.com/biblenewsradio/

>Tumblr: 449 posts, 102 followers               https://www.tumblr.com/blog/biblenewsprophecy

>Flipboard: 332 posts, 2,170 page views    https://flipboard.com/@prophecynews/bible-prophecy-radio-eguc7bfsy

Ello.co:  70 posts, 8,294 views                  https://ello.co/biblenewsprophecy

>Tune-In Radio: 708 followers                     http://tunein.com/radio/Bible-News-Prophecy-s236546/

There are several ways you can listen, some options are:

Internet radio stream and podcasts, visit www.biblenewsprophecy.net

For mobile devices and faster streaming (IOS and Android):

>Mobile radiohttp://mobile.caster.fm/66A647/  or http://www.biblenewsprophecy.net/mobile-radio/

>Tune-In Radio App and Desktophttp://tunein.com/radio/Bible-News-Prophecy-s236546/

>Itunes go to Internet Radio, News/Talk Radio, and search for Bible News Prophecy

>Simple Radio App/Streema Radio http://streema.com/radios/Bible_News_Prophecy

You can also listen on different players:

To listen on Winamp, iTunes, Windows Media Player, Real Player and QuickTime, simply click on Mobile radio link http://mobile.caster.fm/66A647/ and then click on the player icon.
It is great to have many ways to reach people. We appreciate the work and support of those in New Zealand. My wife Joyce and I have been to New Zealand three times and hope to be able to come again in 2017.
As far as online speakers, other than myself, we have radio streaming programs with the following:
John Hickey:  Mr. Hickey is the news presenter for Prophecy News reports and also one of our speakers for CCOG, some items include 'Is the Bible Real?', and 'Technology and the Gospel'.

Steve Dupuie:  Mr. Dupuie is one of our CCOG speakers, some topics include; 'Traffic Laws Done Away?' , 'Dealing with Satan', Bearing Fruit Worth of Repentance, and Are We Saved by Faith? Or are we Saved by works?

Bill Wedekind:  Mr. Wedekind is the voice for our station id, short messages as well as one of our news presenters for Prophecy News reports.

Jay Chang: Mr. Chang records some of our CCOG short messages and sermonettes, one sermonette is titled Astrology, the occult, tattoos, and pornography.

Vince Patterson, who was born in the Caribbean, but now lives in the UK.

Deacon Richard Close, from Pennsylvania.

Herb Haddon from New Brunswick, Canada.
We appreciate all the assistance we get.
More about the use of radio can be found in the Q&A article: Does the CCOG go through the 'door' of radio to reach the world?
Richard Close Report
Deacon Richard Close sent in a report about his recent visits:
Trip report  Nov 10 thru Nov 20     Left Pa Thurs. afternoon–drove to Gilmer, Texas–Stayed w/ close friends, … Monday AM drove up to McCurtain Okla. & visited  w/ old friends from  Michigan and shared cogwriter and CCOG web sites w/them.    Tues AM  drove to Norman OK  and met Bonnie Allen for a short visit and drove up to Blackwell, OK.   The next morning in the motel coffee area, shared CCOG web site info and Dr. Thiel's name w/ Rey.  He is a non-practicing Catholic  who had tried some other "churches" but nothing satisfied.  I suggested CCOG as something different.    Wedn. drove up to Wichita, Ks.  Stopped about 9 am @ Linda Holeman's and visited until some family members arrived .  A total 12 in all. Very nice and profitable visit. Mid afternoon –moved a few blocks and continued Q & A @ another home w/4 family members.  As time for school to be out  I drove Joni Galloway and her son to her home so she could get her daughter from school.  Joni's Father was there when we arrived and I met and visited w/him. The 5 of us shared a meal  and some counciling until 9 + PM   Got a motel near by and returned  Thus AM to Joni's home for coffee and a short bible study before taking her to work @ 10 AM and left for Michigan.  Neglected to lock my car @ a rest area in Illinois and some one stole my cell phone.  Got to Mi. Fri. evening, called Steve Dupuie. from motel and set up a meeting for coffee Sabbath morning. (Ruth was sick)  and visited   and hour and a half. Went to Terry and Sharron's for Services.   We were joined by Chris and Emily Hill.  Very nice Sabbath.  Late afternoon started for my sister-in-laws in Youngstown, Ohio.  Some lake effect snow & very strong winds made driving " dicey"   Left Ohio 10:30 AM and arrived back in Pa  4 PM  Strong winds and snow contributed to some bad driving conditions on  I-80       Can't get  my computer to tab down —Continuing– New internet contacts  4   –New phone contacts/counseling  2  —   anointed Cloth's  sent out   2 .    end of report. ////   
Richard Close is planning more trips for the future. He is also available for counseling and anointing (see How does the CCOG handle Counseling, Prayer Requests, Funerals, and Anointing of the Sick?). Richard Close's email address is: closesr@comcast.net
World News Items
A couple of weeks ago, this letter featured a discussion of coming internet censorship (see Letter to the Brethren: November 24, 2016). This week, more steps have been taken for internet censorship (see This Is the Purge We All Knew Was Coming: "Shutting Down Extremist Content"). Maybe it should be noted that we may have had a censorship issue with Google yesterday that we are looking into. The time is coming when there will be 'famine of the word' (Amos 8:11-12), and that is part of why we are doing a lot of 'behind the scenes' work to prepare for the 'short work' (Romans 9:28) of finalizing the fulfillment of Matthew 24:14–proclaiming the Gospel of the Kingdom of God to the world as a witness.
On Sunday, Europe had some elections. As a result some are questioning if the European Union will survive (see BBC: 'Could the European Union fall apart?'). While the Bible does use the term 'European Union,' it does teach that Europe will reorganize and unite under the final Beast in Revelation 17:12-13. So, despite expected problems (cf. Daniel 2:41-43), Europe will one day unite under the Beast.
But that is to be without Great Britain. Yesterday, the British Parliament voted to authorize the government to begin 'Brexit' talks with the European Union (see UK Parliament approves BREXIT talks to start with Europe in March 2017). This would seemingly trigger article 50 of the Lisbon Treaty and thus begin a timetable for the UK to be out of the EU by the Spring of 2019. While the EU is pleased that the UK will finally begin exit talks, it is not pleased that the UK voted to leave. The time will come when Europe will take military steps, after the UK is expected to be out, that the UK and USA will not like (cf. Daniel 11:39; Isaiah 10:5-11).
German Chancellor Angela Merkel has called for a ban on face covering Islamic burqas. She has also stated that Germany will not tolerate Islamic sharia law (see Germany's Merkel want to ban the burqa and not tolerate any version of sharia). While Chancellor Merkel likely expects political benefits from this, the reality is the time will come when Islam will be pushed from Europe. Statements, like the Chancellor's, show that many Europeans are getting ready for that.
Suggested Sabbath Service
Here is a suggested Sabbath service for this week:
2-3 hymns (our songbook, The Bible Hymnal, contains the materials from the 1974 Bible Hymnal from the old WCG with new covers, plus ten additional hymns; there is also some Choral Accompaniment online).
Opening prayer.
Sermonette, which for many who receive this letter via email will be a recorded one. The one suggested for this week is: Will the Great Tribulation Start in 2017? Other sermonettes are available at the Bible News Prophecy channel.
Announcements (if any; though for many it will be this letter) and one hymn.
Sermon, which for most who receive this letter via email will be a recorded one. The one suggested for this week is: Real Christian Repentance. Other sermons are also available at the ContinuingCOG channel.
Final hymn.
Closing prayer.
Note: If you have a slow internet connection, you can watch these by starting the video, then below it (and towards the right) look for an outline of a gear–if you click on that, it will allow the YouTube video to be played with lower video quality, but at least it will not stop often–you can select a quality as low as 144p. If your internet connection is still too slow (as my home one is) and/or you prefer audio messages to audio-visuals ones, go to the YouTube link for the message, click on SHOW MORE related to the description. You will then see something that says, "Download MP3." Below that is a link to an MP3 file. Most computers (and even some cellular telephones) will allow MP3 files to be downloaded and played. This is an option we have made available (but we are also looking into ways to improve that as well)–and, of course, we have written article options. Some people have found that if their internet connections are not fast enough, that they can simply listen to the messages that are found at the new Bible News Prophecy online radio channel.
IN CASE YOU DO NOT RECEIVE A 'LETTER TO THE BRETHREN' FOR ANY WEEK, REMEMBER THAT THERE ARE MANY SERMON MESSAGES ON THE ContinuingCOG channel AND MANY SERMONETTE MESSAGES ON THE Bible News Prophecy channel.
Concluding Comments
The Book of Revelation contains the following:
12 "And behold, I am coming quickly, and My reward is with Me, to give to every one according to his work.  13 I am the Alpha and the Omega, the Beginning and the End, the First and the Last."

14 Blessed are those who do His commandments, that they may have the right to the tree of life, and may enter through the gates into the city. (Revelation 22:12-14)
Brethren, Jesus will return. Those who are faithful and do His commandments will be rewarded.
Sincerely,
Bob Thiel
Pastor and Overseer