Dear Brethren and Co-Workers in Christ:
Greetings from the Five Cities Region of California.
Gentiles and Languages
Jesus taught that the end does NOT come until the 'Gospel of the Kingdom of God' reaches enough nations (Matthew 24:14) and, based on Paul's writings, we also see that for Him to return "the full number" (as the NIV, NLT, BSB, CEV, GNT, HCSV, ISV, and NET Bible, put Romans 11:25) of Gentiles God wants in this age must come in.
As most of you realize, in the Continuing Church of God we have worked to help fulfill Romans 11:25, concerning the fullness or "full number" of Gentiles coming in.
One of the reasons that we have been the fastest growing x-WCG group in the 21st century is because we have put materials out in more languages than we are aware that any other COG has.
It only makes sense that if we want to reach people, we should strive to have materials in languages that they understand.
As of this past Tuesday, we have literature available online in 160 languages (including sub-languages):
Afrikaans Afrikaans

Albanian Shqip

Amharic አማርኛ

Arabic العَرَبِيَّة

Armenian հայերէն

Asante Twi Asante Twi

Assamese Assamese

Azerbaijani Azərbaycan

Bambara Bambara

Bangla বাংল া

Bashkir Bashkir

Basque Euskara

Belarusian беларуская мова

Bengali বাংলা

Bhojpuri Bhojpuri

Bosnian Bosanski

Bulgarian български

Burmese မြန်မာစာ

Catalan Català

Cebuano Bisayâ

Chichewa Nyanja

Cantonese Cantonese

Cantonese-Traditional Cantonese-Traditional

Chinese – Literary Chinese – Literary

Chinese – Simplified Chinese – Simplified

Chinese Traditional Chinese Traditional

Chuvash Chuvash

Croatian Hrvatski

Corsican Corsu

Czech Český

Danish Dansk

Deutsch Deutsch

Dholuo Dholuo

Dogri Dogri

Dutch Nederlands

Ekegusii EkeGusii

Esperanto Esperanto

English English

Estonian Eesti keel

Fijian Fijian

Filipino Filipino

Finnish Suomalainen

French Français

Frisian Frisian

Galician Galego

Georgianქართული

German Deutsch

Greek Ελληνική

Gujarati ગુજરાતી

Haitian Haitian

Haitian Creole Kreyòl Ayisyen

Hausa Hausa

Hawaiian Ōlelo Hawaiʻi

Hebrew עִברִית

Hill Mari Hill Mari

Hindi हिंदी

Hmong Hmong

Hungarian Magyar

Icelandic Íslenska

Igbo Igbo

IIocano IIocano

Indonesian Bahasa Indonesia

Irish Gaeilge

Italian Italiano

Japanese 日本語

Javanese Jawa

Kannada ಕನ್ನಡ

Kazakh Қазақ тілі

Khmer ភាសាខ្មែរ

Kiswahili Kiswahili

Kinyarwanda Kinyarwanda

Konkani Konkani

Korean 한국어

Kurdish Kurdî

Kurdish-Sorani Kurdish-Sorani

Kurmanji Kurmanji

Kyrgyz кыргызча

Lao ພາສາລາວ

Latin Latinae

Latvian Latviešu valoda

Lingala Lingala

Lithuanian lietuvių

Luganda Luganda

Luxembourgish Lëtzebuergesch

Macedonian Македонски

Maithili Maithili

Malagasy Malagasy

Malay Bahasa Melayu

Malayalam മലയാളം

Maltese Malti

Maori Te Reo

Mandarin (Chinese) 普通话

Marathi मराठी

Malayalam Malayalam

Mongolian Монгол

Mongolian – Cyrillic Mongolian – Cyrillic

Myanmar Myanmar

Myanmar – Burmese Myanmar – Burmese

Nepali नेपाली

Norsk Norsk

Norwegian Norsk

Oromo Oromo

Pashto پښتو

Persian فارسی

Polish Polskie

Portuguese Português

Punjabi ਪੰਜਾਬੀ ਦੇ

Punjabi Indian Punjabi Indian

Punjabi Pakistani Punjabi Pakistani

Punjabi-Shahmukhi Punjabi-Shahmukhi

русский русский

Romanian Română

Russian Rusă

Samoan Gagana fa'a Sāmoa

Sanskrit Sanskrit

Scots Gaelic Gàidhlig

Sepedi Sepedi

Serbian Српски

Sesotho Sesotho

Shona chiShona

Sindhi سنڌي

Sinhala Sinhala

Sinhalese සිංහල

Slovak Slovenčina

Slovenian Slovenščina

Somali Af-Soomaali

Spanish Español

Sundanese Sundanese

Swahili Swahili

Swedish Svenska

Tagalog Tagalog

Tahitian Tahitian

Tajik тоҷикӣ

Tamil தமிழ்

Tatar Tatar

Telugu తెలుగు

Thai ภาษาไทย

Tibetan Tibetan

Tongan Tongan

Tsonga Tsonga

Turkish Türkไทย

Turkmen Turkmen

Twi Twi

Udmurt Udmurt

Uyghur Uyghur

Upper Sorbian Upper Sorbian

Urdu اردو

Uzbek Oʻzbekcha

Uzbek-Cyrillic Uzbek-Cyrillic

Vietnamese Tiếng Việt

Welsh Cymraeg

Xhosa isiXhosa

Yiddish יידיש

Yoruba Èdè Yorùbá

Yucatec Maya Yucatec Maya

Zulu isiZulu
We are not satisfied with 162 languages and sub-languages and intend to restore more. While God sometimes used miracles of hearing to do that (e.g. Acts 2), various ones translated in the early church. We in CCOG have seemed to do the most of that than any group.
Yes, putting materials in languages Gentile and Israelite peoples understand helps more be called in this age.
We just added an updated Gospel of the Kingdom booklet in Kiswahili which we finalized yesterday. Here is a picture of its front cover: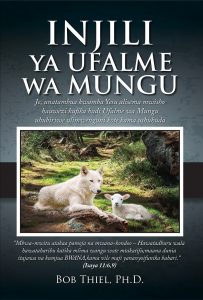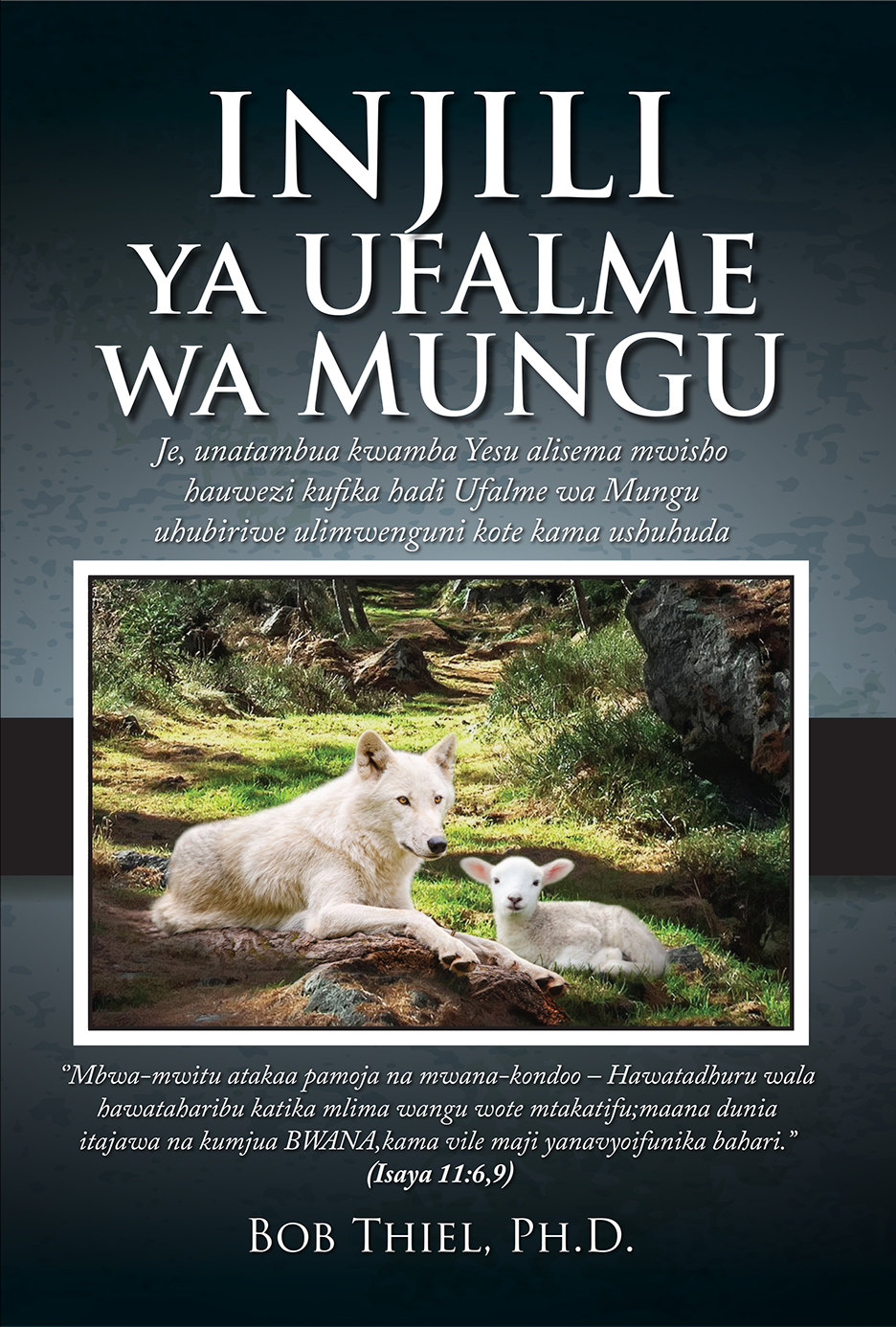 We wanted an updated version of this book as we had added a few points in the English version since it was originally translated. We wanted the updated version as we are planning on printing these in Kenya to provide literature to support our brethren in Kenya and Tanzania as well as to be available to support those who respond to our radio broadcast in Kenya, which also reaches Tanzania (a nation that mainly speaks Kiswahili). Here is a link to the online version: Injili ya Ufalme wa.
Let me also mention that the Book of Revelation points to the use of multiple languages being used to reach people before the end:
9 After these things I looked, and behold, a great multitude which no one could number, of all nations, tribes, peoples, and tongues, standing before the throne and before the Lamb, clothed with white robes, with palm branches in their hands, … These are the ones who come out of the great tribulation, (Revelation 7:9,14)
Having materials in as many languages as we can helps set the stage for the fulfillment of that prophecy.
In 2022, we have added 50 or so languages more than we had before.
Suggested Sabbath Service
Here is a suggested  service for the weekly Sabbath:
Note: If you have a slow internet connection, you can watch these by starting the video, then below it (and towards the right) look for an outline of a gear–if you click on that, it will allow the YouTube video to be played with lower video quality, but at least it will not stop often–you can select a quality as low as 144p. If your internet connection is still too slow (as my home one is) and/or you prefer audio messages to audio-visuals ones, go to the YouTube link for the message, click on SHOW MORE related to the description. You will then see something that says, "Download MP3." Below that is a link to an MP3 file. Most computers (and even some cellular telephones) will allow MP3 files to be downloaded and played. This is an option we have made available (but we are also looking into ways to improve that as well)–and, of course, we have written article options. Some people have found that if their internet connections are not fast enough, that they can simply listen to the messages that are found at the Bible News Prophecy online radio channel. Note: If there are ever commercials before, during or after, they ARE NOT from us nor do we receive money from them–but sometimes platforms put them up.
IN CASE YOU DO NOT RECEIVE A 'LETTER TO THE BRETHREN' FOR ANY WEEK, REMEMBER THAT THERE ARE MANY SERMON MESSAGES ON THE ContinuingCOG channel AND MANY SERMONETTE MESSAGES ON THE Bible News Prophecy channel. There are also some messages at the CCOGAfrica channel. There are also messages in the Spanish language at the CDLIDDSermones channel.
World News Items
The largest teachers union in the USA has decided to more fully push pro-abortion and pro-LGBTQ+ positions to children in the USA (see NEA announces its priorities for teachers: abortion and LGBT agenda). These type of position have led to increases in children being pulled out of public schools by their parents and being home-schooled or enrolled in private schools, though not all have the resources for that. The pushing of immorality to children, and others for that matter, will not end well (cf. Romans 1:18-32).
The USA and Europe are experiencing more price inflation than they have had in decades and the the U.N. Food and Agriculture Organization is concerned about people in other parts of the world experiencing severe food shortages (see USA inflation hit 9.1%, German food prices up 12.1%; Could the third horseman of the Apocalypse have begun his ride?). Famine (Matthew 24:7) and food price inflation (Revelation 6:5-6) are consistent with certain end time prophecies.
Over in Asia, the people of Sri Lanka have been protesting economic and other disasters there, resulting in government officials agreeing to resign (see AP: Sri Lankan PM agrees to quit amid biggest political turmoil; VOA: Abe's Body Returns to His Tokyo Home as Japan Mourns Slain Former PM). While the government had hoped to make a deal with Russia (see Sri Lanka looking to Russia for fuel and assistance), pushing government officials out. We may be entering the time of famines that Jesus warned of (e.g. Matthew 24:7).
As most of you are aware, we have been warning about costs to sanctions for years (e.g. watch US Sanctions and Tariffs leading to New World Order?). There are now food shortage and other issues (see Food shortages: CNN blames Russia, while Russian tycoon blames Western sanctions), some of which may be caused by other governmental decisions (see Dutch farmers protest, German industry at risk, French energy warning: Unrest in Europe?).
This past Spring we warned that Europe could see civil unrest related to the consequences of sanctions against Russia and Russia's actions because of them (see 'Gazprom continues natural gas shipments to Europe' 'Germany's Economic Minister Warned Of Unrest If Russian Gas Is Immediately Cut Off). Some now are concerned that because of issues with the supply line known as Nordstream 1, that unrest could happen fairly soon (see Euro dollar parity, Europe at risk for social unrest, 'Doomsday scenario'?). Let me add that it is also possible that Russia may also be angling for Germany to agree to shipments via Nord Stream 2, which was reportedly ready for use in December of 2021–but which the Germans  decided not to allow in February 2022.
That being said, for over a decade, I have warned that Russia could end up with the State of Alaska and parts of Canada. This week a Russian official stated that the USA owed Alaska to Russia because of sanctions and that was followed up by a private Russian citizen putting up billboards stating "Alaska is Ours" (see Newsweek: 'Alaska Is Ours!' Billboards Appear in Russia After Threat to Reclaim State). The Bible tells of a time when the power with the "strongest fortresses" (which in the 21st century is the USA) would be conquered and have its lands divided (Daniel 11:39). Russia ending up with at least some Alaskan, and even Canadian, territory is consistent with that prophecy.
Concluding Comments
The recommended sermon this week is CCOG: Restoring All Things.
Two points that perhaps should be added that were not covered in that sermon. The first is that, to the best of my knowledge, I was the first one to put together and get published, Herbert W. Armstrong's actual list of restored truths. Most others relied on a list put together by the old Tkach Administration which was NOT Herbert w. Armstrong's list.
It was probably back in 2001 that the late evangelist Dibar Apartian told me that the Tkach list was not the true list. This led me to do research and come up with a list. Then my wife Joyce and I put together the correct list and submitted it to the old Journal: News of The Churches of God, which published it in 2002 (see The 18 Restored Truths: Do You Know What the First Changes the Tkach Administration Made?). I actually worked with my prior COG to get them to include all those 18 truths in their official statement of beliefs. Though they added most of them, they refused to include one or two. But in the Continuing Church of God, our statement has the proper list. So, in a sense the CCOG has restored Herbert W. Armstrong's "18 restored truths." Furthermore, online I added historical references to back up Herbert W. Armstrong's assertion that the truths were originally taught by early Church of God leaders (see 18 Truths Restored to the Churches of God: Mission of the Philadelphia Church Era).
As far as restored truths and the recommended sermon goes, last Sabbath, I recorded a message for the Day of Atonement for 2022. In it, I discussed the reason for both a Passover and Atonement sacrifice representing Jesus. Although that could well be considered as a "restored truth," it was not mentioned in the CCOG: Restoring All Things sermon, which we recorded a couple of hours after the one on Atonement.
So, since we are discussing restored truths, it seemed like some information on that item should be shared here.
Consider that Romans 6:10, Hebrews 7:27, Hebrews 9:12, Hebrews 9:28, and Hebrews 10:10 all teach that Jesus died ONCE for the sins of humanity.
Now notice the following:
7 … For indeed Christ, our Passover, was sacrificed for us. 8 Therefore let us keep the feast, not with old leaven, nor with the leaven of malice and wickedness, but with the unleavened bread of sincerity and truth. (1 Corinthians 5:7-8)
So, Jesus represents the Passover sacrifice. Now, the original Passover (Exodus 12:1-38) only resulted in the children of Israel being passed over by the death angel. In this age, those who are true Christians claim the sacrifice of Jesus on His final earthly Passover for paying the penalty for our sins. Yet real Christians are a small minority of the population of the world (Luke 12:32; Romans 11:5).
But what about the sacrifice of a goat on the Day of Atonement in the Old Testament (Leviticus 16:15) that symbolically took away the sins of the people? Doesn't that also represent Jesus?
Yes, as the Book of Hebrews teaches:
11 But Christ came as High Priest of the good things to come, with the greater and more perfect tabernacle not made with hands, that is, not of this creation. 12 Not with the blood of goats and calves, but with His own blood He entered the Most Holy Place once for all, having obtained eternal redemption. 13 For if the blood of bulls and goats and the ashes of a heifer, sprinkling the unclean, sanctifies for the purifying of the flesh, 14 how much more shall the blood of Christ, who through the eternal Spirit offered Himself without spot to God, cleanse your conscience from dead works to serve the living God? (Hebrews 9:11-15)

24 For Christ has not entered the holy places made with hands, which are copies of the true, but into heaven itself, now to appear in the presence of God for us; 25 not that He should offer Himself often, as the high priest enters the Most Holy Place every year with blood of another — 26 He then would have had to suffer often since the foundation of the world; but now, once at the end of the ages, He has appeared to put away sin by the sacrifice of Himself. 27 And as it is appointed for men to die once, but after this the judgment, 28 so Christ was offered once to bear the sins of many. To those who eagerly wait for Him He will appear a second time, apart from sin, for salvation. (Hebrews 9:24-28)
So, Jesus was the atonement sacrifice as well.
Why two sacrifices since Jesus was only sacrificed once?
Because of how the biblical holy days picture God's plan of salvation.
The biblical festivals begin with the sacrifice of Jesus (Passover), putting out sin (Days of Unleavened Bread), and the calling of the firstfruits in this age (Pentecost)–which is the beginning of the Church age (cf. Acts 2). The Church age ends when Jesus returns after the last trumpet is blown (Feast of Trumpets sets off a sequence of seven trumpets). The Day of Atonement comes after the Feast of Trumpets and, in sequence, happens AFTER the church age ends.
Jesus' Passover sacrifice pictured His sacrifice for those called during the Church age, whereas the Atonement sacrifice pictures that Jesus did NOT JUST DIE FOR THE ELECT but for all (cf. John 3:16-17). That is also related to Him returning the second time for salvation!
This is a truth that has been restored in the Continuing Church of God.
So, we have been restoring much and I believe that God will use, and has been using, the Continuing Church of God to "restore all things" consistent with what one man is prophesied to do (Matthew 17:11).
Sincerely,
Bob Thiel
Pastor and Overseer