Dear Brethren and Co-Workers in Christ:
Been working on many aspects of the work and gospel proclamation.
Finally got the October-December edition of the Bible News Prophecy magazine in Kiswahili formatted into a magazine and sent it to Kenya for printing.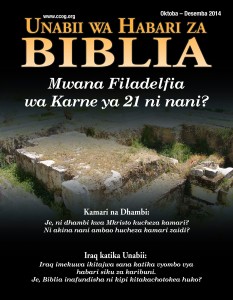 It also was posted online. Here is a pdf link to it: Oct-Dec 2014  UNABII WA BIBLIA: MwanaFiladelfia wa Karne ya 21 ni nani?
Report from Africa
Today, I received the following in a report from the Continuing Church of God (CCOG) Pastor Evans Ochieng:
Pastor Dr Bob,

Thank you very much for the Kiwahili Translation. I will take it to
printer in Nairobi on Monday.

Today I am in Kisumu where I went to meet some members before I travel
to Nairobi . . .

REGISTRATION
The reason why church must be registered in Kenya is that, we cannot
operate in Kenya if the church is not registered. Nothing you can do
as a church if it is not registered. Again since terrorists are many in
Kenya, any meeting without registration is being considered as a group
of terrorists. So it is a law in Kenya that every church must be
registered.  Even for us to collect tithes however little is. that
must be done when the church is registered so that we can be free to
issue the receipts.

I registered the church and they were to check if there is another
name similar to ours which had already being registered. So on
Monday I am going to check if it is through so that I may take the
certificate. These are one of the things I am going to do in Nairobi.
And that is the reason why I told you that I will stay in Nairobi for
one week. During this trip I wanted to go and check out our group in
Nairobi . . .

WORK
Pastor since the work in Kenya has expanded large compared to other
old congregations, I hope you are aware that CCOG has a bigger number
in Kenya than other COGS in the country. This is because many people
are being attracted by CCOG website and also when we were coming out
from VIWCOG, big number walked out from there and joined CCOG. So if
you add that number plus those who are studying our magazines and
books makes the church to grow very fast in East Africa.

So this work is quite big and I want have people in regions who can help the work . . . So I want appoint Simon Okeyo, Kenedy Odhiambo, Barthlomew Otieno, Nimrod Ondigo Ezekiel Oanda and John Okinda to represent areas where we have many congregations to help me in the work.

These will help: 1-To collect the tithes even how small it is.
2- To give our magazines in time to all members.
3-Since you know most of COG splinters are  against CCOG because of quick expansion. They feel that CCOG is grabbing there members, but in the real sense those members are joining us simply because of the truth they are getting themselves through website, books and magazines and from me. So we can't stop people from joining the church because of envy from the splinters leaders who are not ready to serve God. If God has open the doors, then we must use the opportunity given by God.

These are the reason why I want appoint these people to stand for the areas so that I can get a good report every month to send to you. . .

Evans
Most of those Pastor Evans mentioned above were ordained as deacons prior to becoming part of the Continuing Church of God.
Currently, East Africa is a "great and effective door" (1 Corinthians 16:9; Acts 14:27) that has been opened (Revelation 3:7-8) that we are going through to proclaim the gospel (cf. 2 Corinthians 2:12).
Radio

I was able to be a radio guest on Tuesday, November 4, 2014.  Subjects covered included Six Financial Steps Leading to 666? (which was last week's recommended sermonette video) and items pertaining to Pope Francis (some of which may be part of a soon to be produced sermonette video).
This was on the Genesis Communications Network, plus K-Ban (which covers North and South America) as well as the portion of DISH Network radio that covers Europe, North Africa, the Middle East, along with parts of Russia and China.
The host of the program agreed to provide links to some materials (including last week's recommended sermonette) at one of his websites.  Promotion from other websites helps us reach people that we otherwise would be less likely to reach.  I am also scheduled to be on the same program, Wednesday, November 12th at 2:05 pm PST (which is GMT – 8:00).
CCOG Internet Radio
As mentioned last week, we now have an online radio station http://biblenewsprophecy.caster.fm/
Here is what part of the web page looks like:

Here is some additional technical information:
Embedded information for your website

HTML Link to your website:

<a href='http://biblenewsprophecy.Caster.fm/' alt='Visit My Radio Website' > Visit my Radio Website </a>

BB Code Link to your website:

[url=http://biblenewsprophecy.Caster.fm] Visit my Radio Website [/url]

This is the embed code for the Pop Up Player (mobile player above) for your website:

Pop-Up Player Link Code, Embed this HTML code in your website. (you can change the red highlighted text to whatever you like)

<a href="#" onclick="window.open('http://mobile.caster.fm/1618C6/','web-radio','width=800,height=360,left=0,top=0,resizable=no,scrollbars=no,toolbar=no,menubar=no,location=no,directories=no,status=no,toolbar=no'); return false;">Open Radio Player</a>

IFrame Player Codes

IFrame Player – Full Horizontal (800×360), Embed this HTML code in your website.

<iframe src="http://mobile.Caster.fm/1618C6″ border="0″ style="border:0;" width="800″ height="360″></iframe>

IFrame Player – Half Horizontal (501×320) (You can change the width up to 750 with the same height), Embed this HTML code in your website.

<iframe src="http://mobile.Caster.fm/1618C6″ border="0″ style="border:0;" width="501″ height="320″></iframe>

IFrame Player – Square (404×338), Embed this HTML code in your website.

<iframe src="http://mobile.Caster.fm/1618C6″ border="0″ style="border:0;" width="404″ height="338″></iframe>

IFrame Player – Vertical Tower (300×526), Embed this HTML code in your website.

<iframe src="http://mobile.Caster.fm/1618C6″ border="0″ style="border:0;" width="300″ height="526″></iframe>
This was set up by CCOG members in New Zealand.  Essentially, it streams the
Bible News Prophecy
channel YouTube videos into a radio stream.
Shirley Gestro, who worked a lot on this project, reported, "I will be listing our station on on all the internet radio directories, so people can find us."
So, we have another door to reach people through.
October 2014 Internet Results
Based upon number of unique visitors and total visits, CCOG.org had its best month ever.  October 2014 had the second highest amount of article views for that site, with September 2014 being the highest for that.
We continue to receive much higher than 'normal' interest from people in Ukraine.  Crises often get people more interested in religion and prophecy.
Our Spanish language site, Cdlidd.es had its second best month ever.  This is probably because of the increasing amount of materials being translated into Spanish as well as the Fall Holy Day season.
October 2014 YouTube Results
According to YouTube, we had 14,023 views of the Bible News Prophecy channel. and 7,534 views of the ContinuingCOG channel.
While not as many watched the sermons uploaded during the Feast of Tabernacles this year as hoped, it appears that more people than expected watched prior sermons.
More and more people are watching our video sermons and sermonettes.
Sermons
This week's sermon, What is the 'Mark of Antichrist'?, is basically part one of two. Next Sabbath I hope to make a sermon titled What is the Mark of the Beast?  I have been preparing two new articles on these matters.
The idea to cover this partially came because of questions I received at the Feast of Tabernacles in Orlando, Florida as well as other questions from CCOG supporters related to some posts at COGwriter.com.
While not everything is known about the "mark," the sermons and the new related written articles are biblically and historically based and hopefully will answer questions that many have.
World News Events
There were several elections of note.  Brazil re-elected its president, Dilma Rousseff.  In the USA, there were changes in Congress that will result in its President Obama having more obstacles to parts of his agenda and some believe the results were dangerous (see WT: America faces most dangerous two years in 150 years).  In Tunisia, analysts seem to believe that the new government there will  be less Islamic, however, do not expect this to last forever as Tunisia would seem to be one of the nations that will support the final "king of the South" power of biblical prophecy (Daniel 11:40-43).
In eastern Ukraine, the separatists voted for a separatist leader (see Ukrainian separatist receives 79% of vote; West condemns the election). The 'democratic' West condemned the election in eastern Ukraine as illegal, while Russia said it would respect the vote.  The Bible says that the time will come when the "kings of the Medes" are together (Jeremiah 51:11,28), and we seem to be witnessing preparatory steps.
As far as voting goes, as Christians, we normally do not participate in carnal elections (see Should a Christian Vote?).  The reason I say "normally," is that in some nations, voting is obligatory.  Additionally there are also some locales where Christians are in situations where they may need to cast ballots for other reasons or obligations.  But generally speaking, this is not a normal Christian practice.
Russia's Vladimir Putin topped the list by Forbes magazine as the world's most powerful person. His actions around the world have concerned many.  This week, Finland warned that he seems to want their territory as well (see Vladimir Putin named world's most powerful person; Finland worried he may want take it over).  Actions by Vladimir Putin are telling the Europeans that they must increase their military spending and power.  But this will not end well for the USA (Daniel 11:39), Europe (Jeremiah 50:41-46), nor rest of the world until Jesus returns (Matthew 24:22).
In the Middle East and Africa, Islamic terrorists are continuing to kill and terrorize (see Boko Haram and ISIS continue to terrorize, kill, and abuse).  It may well be that proposing something like the biblical "king of the South" (Daniel 11:40-43) will gain more widespread support as a way to attempt to manage those on the terrorist side of Islam.
One of our supporters in Canada sent links to some articles related to concerns that 'conservative Catholics' have about Pope Francis (see Australian Cardinal hints Francis could be an antipope; US Cardinal also expresses doubts about Pope Francis).  This is a subject I may make a sermonette about this Sabbath.  Biblical prophecies show that the harlot Church of Rome (cf. Revelation 17:1-9, 18) will be betrayed (Revelation 17:16-17) and that the Antichrist/False Prophet will survive that betrayal until Jesus returns (Revelation 19:19-20).  This is consistent with the view that the final pope will be an antipope as well as antichrist.
Speaking of Pope Francis, he made some pro-evolution anti-God creation statements recently (see Catholic endorsements of 'evolution').  However, that is really nothing new.  When I attended Catholic school, I recall being taught evolution by the nuns.  The Church of Rome has long had issues with various parts of the Bible, starting with the Book of Genesis.
The United Nations released a report in the past week on 'climate change.'  The report put significant blame on humans using fossil fuels, but overlooked the effects that sin is prophesied to have on weather (see United Nations insists 'climate change' is real and steps need to be taken: but which steps?).  The Bible tells of coming weather problems, including high heat (e.g. Revelation 16).
Suggested Sabbath Service
Here is our suggested format for Sabbath services this week:
Note: If you have a slow internet connection, you can watch these by starting the video, then below it (and towards the right) look for an outline of a gear–if you click on that, it will allow the YouTube video to be played with lower video quality, but at least it will not stop often–you can select a quality as low as 144p.
If your internet connection is still too slow (as my home one is) and/or you prefer audio messages to audio-visuals ones, go to the YouTube link for the message, click on SHOW MORE related to the description. You will then see something that says, "Download MP3." Below that is a link to an MP3 file. Most computers (and even some cellular telephones) will allow MP3 files to be downloaded and played. This is an option we have made available (but we are also looking into ways to improve that as well)–and, of course, we have written article options that we list each week.
Concluding Comments
The Apostle Paul wrote:
15 Be diligent to present yourself approved to God, a worker who does not need to be ashamed, rightly dividing the word of truth. 16 But shun profane and idle babblings, for they will increase to more ungodliness. (2 Timothy 2:15-16)
Brethren, be diligent in your studies and support of the truth.  Take care, however, that you do not get distracted from some who wish to dwell on idle matters.
Sincerely,
Bob Thiel, Pastor and Overseer
Continuing Church of God