Dear Brethren and Co-Workers in Christ:
Greetings, once again, from California.
We had three flights from Quebec and it took us over 16 hours to get home last Thursday.
There has been a lot to do to catch up with.
Some have asked if we have been directly affected by the numerous wildfires in California, and the short answer is no (the longer answer is that there is probably more air pollution, etc., but not so much more that we have noticed).
Today, Halloween is celebrated by many in the world. Tomorrow, less (though still many) will celebrate All Saints' Day. These are not biblical holidays (watch All Hallowed Saints' Day of the Dead and Debunking 17 reasons to celebrate Halloween).
But we live in an age where non-biblical ways are promoted and celebrated.
This will change in the soon coming Kingdom of God.
Feast of Tabernacles
We received several other Feast of Tabernacles reports.
Here is more information related to Africa:
Pastor Dr Bob,

Greetings from Kenya.

The feast of tabernacles 2019 was wonderful according to the reports that I received from all feast sites in Kenya and one Tanzania. The feast at Ndhiwa was highly blessed because  the Almighty God blessed the site with a baby.  Jacob's wife gave birth. Since our feast site is far from the hospital, we were worried how we could help the situation. But due to miracles from God, the woman gave birth easily and without any cost. People were suprised and glorified GOD.

The teachings were good.  The bishop of Ebenezer attended the meeting and when I was teaching about the feast of tabernacles and it's impotence, he turned his mind to follow God's ordained feasts.  The feast at Ndhiwa was attended by 180 people including children. Since the rain started early this year so many people failed not to attend the feast of tabernacles due to rainfall and bad roads.

The congregations which were at Ndhiwa are Mbani, kiseke, Oriang, Migori, gribe, muhuru, oyugis, Nyakach, kihancha, Ndhiwa and kisii Eberege. The eleven congregations were at Ndhiwa. But some congregations did not attend like Bethseida and Nyasembe.

                         BAPTISM

On Thursday was a free day to visit different places to see God's creations. Ndhiwa feast site is surrounded by Lambwe National game park, lake victoria fresh water lake and Thim lich oinga meusium. People visited different places on Thursday. Some went to Lambwe National game park, some went to lake victoria. I and pastor Ezekiel Oanda and deacon Nimrod ondigo went to lake victoria fresh water lake because we were going to do the baptism.

We baptized 5 people and here are the names:- Grace Nyabonyi and margret Evans from Eberege, zaidi Obote from Ndhiwa, Helen Atieno and phoeby Awino from Migori.

The occasion was very smart. So many people also visited lake victoria fresh water lake. The brethren from kisii wanted to go around the lake by boat. They enjoyed the sailing trip so much.

On Friday we had luncheon for those who are over 60 years. It was a wonderful meal and the old age brethren enjoyed their day so much. …

The feast ended well except we got a sad report from malawi that our representative in zambia Justin Gonocomoto fainted on his way back to zambia …

Evans
Sadly, Justin Gonocomoto died since that report was written. We then had to arrange to transport his body back to Zambia.
Here is a report related to a site in Kenya from Bradox Ochieng:
Greetings to all the brethren all over the world . It is my pleasure to once again have the opportunity to share with you the report on the Feast Of Tabernacle 2019 In Kenya, Homa-bay County, Ndhiwa  sub-county, Sigama villages.

Everyone knows it is God's plan and a command for true Christians to Keep the Feast Of tabernacles every year. You may wish to have a glance at the verse bellow:

(Then the Lord spoke to Mosses saying, speak to the children of Israel saying, the fifteenth day of this seventh  month shall be the Feast Of Tabernacles  for seven days to the Lord . On the first day there shall be a holly convocation you shall do no customary work on it. For seven days you shall offer an offering made by fire to the Lord , on the eighth you shall have a holly convocation and you shall offer an offering made by fire to the lord, it is a sacred assembly and you shall do no customary work on it   "Leviticus 23:33-36"

As you  know and to those who have not known  , this Feast site is located just 300 miters from Ruma National Game park where many had the opportunity to just walk up to the game park to view God's creation and  this time many got the opportunity to go to lake victoria   , A fresh water lake with different species  of God's creation such as Hypos crocodiles and many more, some brethren were also blessed to be baptized here.

The brethren came from different  tribes, with different languages and from different parts of the country to keep the feast of tabernacles.

The congregations that came to this site are, Ndhiwa congregation  which was hereby the Host,  congregations from Kissi, Nyakach, oyugis, mbani, Oriang, kiseke, Kehancha, Migori, otho , Giribe , many who are at Primary schools, High schools collages and universities both teachers and students could not attend because of preparation for what they call end year exams which is starting this month.

For the brethren who came, we enjoyed different teachings from different pastors and many brethren had enough time to ask and know various teachings as most of the afternoon services were left for bible study.

This time round we had over 24 brethren who had attained the age of 60 including Evangelist Evans Ochieng who had His first time to be together in celebrating the day  above some were old as 86 year and Pastor Evans Organized for them a special day where there were left alone to study and have special meals so  that they would then teach  the young people how to lived and only follow Christ in this deceived world. " Proverbs 1:8-9 My Son hear the instruction of you Father and do not forsake the law of you mother for they will be graceful ornament on your head and chains about your neck."

" Proverbs 3:1  My son, do not forget my Law but let your heart keep my commandments for length of days and long life and peace they will add to you"

In general, we had a very wonderful Feast Of tabernacles and everyone of us should thank the almighty God for protecting us through out the Feast of Tabernacles and May Gods bless all the brethren who helped us through out the Of tabernacles Financially,  Spiritually and Physically.

Again there is something that  I won't forget to mention here that " During last year's Feast of Tabernacles, we had a mother who gave birth on the first day of the Feast, the woman came from our congregation in Nyakach and Ironically the same happened again this year where a woman from Giribe congregation gave birth on the first day of the Feast of Tabernacles. Even though this year's incident was bit strange because it rained so much and because of our poor roads the vehicle could not get access to the site so by the time she was being accompanied to the hospital by the husband, Pastor Evans and some few women,  she was able to give birth on her own just some 200 miters from the feast site without going to the hospital. We sincerely thank God for all this and may His name be glorified.

 I am sure that all the brethren all over the world had a very wonderful Feast of Tabernacles and that everyone had the opportunity to continue growing in Faith from the teaching we all received during the Feast that is preparing us to be ready for the soon coming Christ and His Kingdom.
John Hickey sent the following sideways photograph from New Zealand: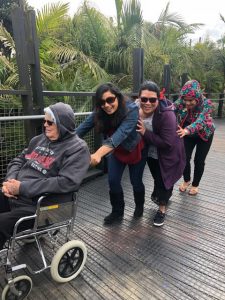 We also received a report that a couple of people had a video site in Batemans Bay, NSW, Australia.
Here is a photograph from the Feast in India: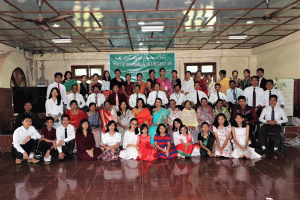 The Indians sent a very high quality photograph, but WordPress (the program this Letter is published in) does not allow photographs larger than 2.0 mg so I had to reduce it to that. Please pray for the brethren in India.
Pastor Samuel Ofosu sent the following from the Feast of Tabernacles in Ghana: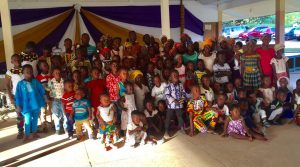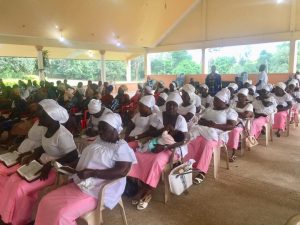 Deacon Grantone Otieno sent the following photographs and report:
Greetings in the mighty name of our lord and Savior Jesus Christ hoping that you and other brethren all over the world had a wonderful  FESTIVE FESTIVAL, FEAST OF TABERNACLE.  We too had a successful FoT at  Migowi Town in Malawi where we met with the brethren from different parts of Malawi, Mozambique and Zambia.

  We had also anew group from Mwanza town, on the Southern part  of Malawi led by Brother Machemba who had managed to meet Pastor Evans on his last visit, and he was in need to be visited and also to be baptized. He is a leader over there and have  about 90 members whom he says that there is a need to be enlightened about the Faith which was once and for all delivered to the saints and all that CCOG advocate for.

    There was a seriously need of baptism from both Malawi members and brethren from Mozambique on the third day after digging deep on the topic of Baptism.  We had 11 congregations from Malawi, 5 from Mozambique and brother Gonacomoto from Zambia.   Many are truly thirsty for the truth and there is need  of reaching them.

  We pray so that the Almighty God strengthen you and give you more energy together with your team to  continuing help open the eyes of those who are spiritually blinded to come to the light and the unfolding truth of the Bible as well as  the plan of salvation of the  God to all mankind.

 Warm regards,

  Grantone Otieno.
This is the second time Grantone Otieno (who is from Kenya) assisted in Malawi for the Feast of Tabernacles. We are glad he was again able to help.
World News Items
US President Trump stated that the caliph of ISIS, Abu Bakr al-Baghdadi, was killed (see Donald Trump confirms COGwriter posts related to ISIS leader Abu Bakr al-Baghdadi). This is not a surprise as I did not believe that Abu Bakr al-Baghdadi could be the coming King of the South (Daniel 11:40-43). But such a leader will rise. And partially because he will not seem to be as much of an international terrorist as Abu Bakr al-Baghdadi, he will gain acceptance by Europe, to some degree (cf. Daniel 11:27).
Someone forwarded a link to an interview with Archduke Rudolf (Habsburg) of Austria. In the interview, he spoke well of Catholic prophecies and the probable Roman Catholic sainthood for his grandparents (see Sainthood for the Habsburgs? Will a descendant promote European peace, but bring destruction?). He believed that his grandparents were a force for peace, that if properly listened to, could have prevented World War I. Do not be surprised if a descendant of the Habsburg family will one day promise peace (Daniel 9:26-27), but lead to war (cf. 1 Thessalonians 5:3; Daniel 9:27, 11:31, 39-43). Perhaps I should mention that Baron Karl-Theodor zu Guttenberg's mother was a Habsburg.
Turkey has upset many in Europe and the US related to its incursions into Northern Syria. A new poll shows that most Germans now say they want Turkey out of NATO (see Turkish incursion in Northern Syria prompts majority of Germans to want Turkey out of NATO, but . . . ). The US House of Representative passed a bill on imposing sanctions against Turkey for that, as well as a measure condemning what the Turks did to the Armenians over a century ago as genocide (see US votes sanctions against Turkey and passes resolution condemning Turkish genocide against Armenians a century ago). The Bible shows that Turkey will one day turn against the US, but align with Germany (cf. Psalm 83:4-8), despite what current polls may suggest.
The EU has agreed to a delay to the UK's exit from its arms (see EU's Tusk approves Brexit delay, but UK Parliament still an issue; Special punishment?). Now, it is widely expected that the Britain will leave the European Union on or by January 31, 2020. This will have both economic and military ramifications that will one day not turn out well for the UK (cf. Daniel 8:24-25).
While the US media is focused on the possible impeachment of Donald Trump, Russia, China, and India just made a deal to bypass more use of the US dominated international financial system (see 'Russian alternative to SWIFT ready to connect over 40 percent of the worlds population to a non-dollar financial system'). Others, including the Europeans, are also taking steps to bypass the US dollar and US dominated financial systems. The US dollar losing its status as the world's primary reserve currency will result in severe economic problems for the debt-dependent US government. One day, the US dollar will basically be worth nothing more than the scrap value of the cotton-paper it is printed on. Many nations are working towards toppling US dollar dominance of international finance.
Suggested Sabbath Service
Here is a suggested Sabbath service for this week:
2-3 hymns (our songbook, The Bible Hymnal, contains the materials from the 1974 Bible Hymnal from the old WCG with new covers, plus ten additional hymns; there is also some Choral Accompaniment online).
Opening prayer.
Sermonette, which for most who receive this letter via email will be a recorded one. The one suggested for this week is: 'How to Change Your Life in 5 Seconds'. Other sermonettes are available at the Bible News Prophecy channel.
Announcements (if any; though for many it will be this letter) and one hymn.
Sermon, which for most who receive this letter via email will be a recorded one. The one suggested for this week is: Beliefs of the Continuing Church of God. Other sermons are also available at the ContinuingCOG channel.
Final hymn.
Closing prayer.
Note: If you have a slow internet connection, you can watch these by starting the video, then below it (and towards the right) look for an outline of a gear–if you click on that, it will allow the YouTube video to be played with lower video quality, but at least it will not stop often–you can select a quality as low as 144p. If your internet connection is still too slow (as my home one is) and/or you prefer audio messages to audio-visuals ones, go to the YouTube link for the message, click on SHOW MORE related to the description. You will then see something that says, "Download MP3." Below that is a link to an MP3 file. Most computers (and even some cellular telephones) will allow MP3 files to be downloaded and played. This is an option we have made available (but we are also looking into ways to improve that as well)–and, of course, we have written article options. Some people have found that if their internet connections are not fast enough, that they can simply listen to the messages that are found at the Bible News Prophecy online radio channel.
IN CASE YOU DO NOT RECEIVE A 'LETTER TO THE BRETHREN' FOR ANY WEEK, REMEMBER THAT THERE ARE MANY SERMON MESSAGES ON THE ContinuingCOG channel AND MANY SERMONETTE MESSAGES ON THE Bible News Prophecy channel. There are also some messages at the CCOGAfrica channel.
Concluding Comments
The Apostle Paul wrote:
4 But God, who is rich in mercy, because of His great love with which He loved us, 5 even when we were dead in trespasses, made us alive together with Christ (by grace you have been saved), 6 and raised us up together, and made us sit together in the heavenly places in Christ Jesus, 7 that in the ages to come He might show the exceeding riches of His grace in His kindness toward us in Christ Jesus. 8 For by grace you have been saved through faith, and that not of yourselves; it is the gift of God, 9 not of works, lest anyone should boast. 10 For we are His workmanship, created in Christ Jesus for good works, which God prepared beforehand that we should walk in them. (Ephesians 2:4-10)
Brethren, we are all looking forward to that age to come. Let us walk in the good works that God created us for.
Sincerely,
Bob Thiel
Pastor and Overseer