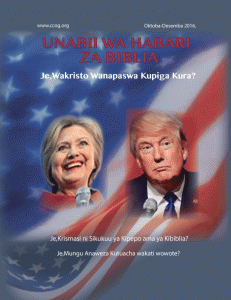 Here is a pdf link to the Kiswahili edition of BNP magazine: BNP Unabii Wa Habari Za Biblia Oktoba-Desemba 2016
Katika Toleo Hili:

2. Kutoka kwa Mhariri:Je,Wakristo Wanapaswa Kupiga Kura? Wengine wanadai kwamba kupiga kura ni jukumu lao
kama Wakristo? Biblia hufundisha nini?
9. Je,Mungu Anaweza Kutuacha WAKATI WOWOTE? Marehemu Colin Adair Anachambua Swali Hili.
12. Kozi ya Biblia Somo la 10:Unabii ni Uthibitisho wa Mungu! Wakati wengi wanapunguza ama wanadunisha
unabii,kuna sababu inayofanya Biblia yako ijae na unabii.
30. Vidokezi Ishirini na Nane vya Maombi Yanayofaa:Sehemu ya 5.Je,ungependa kujifundisha jinsi ya kufanya
maombi yako yafae zaidi?
Jarida la Nyuma: Tovuti na Radio Hili linaonyesha ni wapi watu wanaweza kuupata ujumbe kutoka Kanisa la Continuing Church of God.
Here is a pdf link to the Kiswahili edition of BNP magazine: BNP Unabii Wa Habari Za Biblia Oktoba-Desemba 2016