Since we have many members who are scattered in the USA and Canada, we have appointed elder George 'Doc' Buchanan to assist with counseling, pre-engagement/pre-marital counseling, responding to prayer requests, sending out anointed cloths, personal anointing of the sick, being involved in funeral matters, answer questions when asked, etc.
As far as funerals go, since our brethren in North America are so scattered, while we cannot always have someone attend funerals of deceased supporters, we have tried to send someone when we can.
If you are in the USA or Canada and need counseling, etc,, normally you should contact elder George 'Doc' Buchanan, who lives in Panama.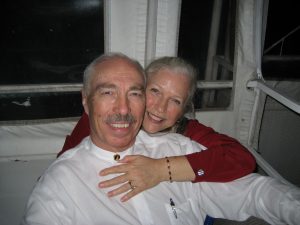 George and Jo Anne Buchanan
Here is a biographical sketch from George Buchanan about himself:
I was born at home on the family farm in Western Ohio that stopped at the Indiana state line. I attended school in Willshire, population about 600. A friend's mom introduced me to The Radio Church of God/Worldwide Church of God through the PLAIN TRUTH magazine.

When I was about 12 years old, my parents flew my brother and me from Fort Wayne to Dayton to Columbus for the Ohio State Fair. A couple of days later, we returned the same way. The airplane was a TWA DC-3. From that time on, I wanted to be a pilot. The problem was that I did not know the way to that goal. Neither did any of my teachers in that small town school.

During my high school years, I remember leaving the house to sit in the car in the garage at 11 o'clock at night hoping to be able to tune in the World Tomorrow radio broadcast from a distant city.

 I considered applying to Ambassador College but Pasadena seemed like the other side of the world from the farm in Ohio. Consequently, I attended a nearby engineering college (they had a flying club!)

Along the way, I learned about a Professional Pilot Training program at Purdue University. I was accepted into their limited numbers program. During the second year, I flew DC-3's in their charter airline, Purdue Airlines, once all of the way to Hudson Bay, Canada where there were icebergs on the bay in June! Upon graduation, I was hired by TWA (Trans World Airlines), this time to fly the Lockheed Constellation ("the Connie"). After 37 years with them, and several different airplanes all of the way up to the Boeing 747, I had to retire due to Federal Aviation Regulations. By then, I had flown about 34,000 hours. I calculate that to be the equivalent of 161 trips to the moon and back… And that at 500 mph, not the 25,000 mph that the astronauts fly.

I began attending the Worldwide Church of God in 1973 and was baptized in February 1974. In 1984, I moved to Freeport, The Bahamas where I was made Deacon in 1988. Having my own single engine airplane, I was able to serve brethren in the out-islands. One sabbath in 1992, I flew to Marsh Harbour, Great Abaco to lead a service there. This was one of the few times that I served in only one location in a day.  I returned to Freeport in the afternoon for their afternoon service where the Bahamas' Pastor Mather had come up from Nassau to give the sermon. It was a total surprise when he asked me to come on-stage and ordained me as Elder. Afterward, I served by traveling to lead the service in Belize. Further, I had the opportunity to give a sermonette in Fiji in 1993, one in Paris, France and a sermon at Nassau, The Bahamas during the Feast of Tabernacles in 1995.

I returned to Florida in 1996. In 2001, my wife, Jo Anne, and I built, as building contractors, our house in Hobe Sound. While there, I had some regularly scheduled Bible Studies. For three months, I had a 100,000 watt daily radio broadcast. The broadcast could reach from northern Ft. Lauderdale to Melbourne, Florida and east to the northern Bahamas.

After the financial meltdown in 2008, we began to look for a cheaper country to live. We looked at Panama about every year until we moved there.

Before moving down here to the Rep. of Panama in 2014, I attended a two-week study program on how to conduct a Bible study for the purpose of Bible Study/church multiplication. My plan was to eventually cover the entire nation of Panama with Bible studies. But my plan was thwarted by my inability to speak Spanish adequately.

Here in El Valle, I have had some Bible studies, each numbering about 15 in this volcano, mountain community of 8,000. But even this came to a close with the restrictions imposed because of the Covid-19. Even our international airport was closed for 9 months! We still must wear masks at all times and observe a curfew.

I do not remember now how I first learned about the Continuing Church of God. I do know that I looked at some other Churches of God but was not drawn to them. When Dr. Thiel called me the first time, I think we both saw that God was drawing me into this church. Subsequently, we have discussed my serving in the area of ministerial counseling, baptisms, and all of the tasks that an Elder might have.

Before I close, let me reveal to you the reason for my nickname. Three weeks before we moved to Freeport, Bahamas, my youngest little girl was born at home in Michigan. Her older brother and sister were 20 and 18 years old respectively. This at-home birth was unplanned. It was supposed to happen in the hospital. After all, that is what hospitals and doctors demand when the mother is over 40 years of age. Furthermore, although the birth was due then and I had bid my days off to occur then, the doctor told us the day before this that it would be at least two more weeks. I was devastated in that I would be working every day during that newly planned birth date. But it wasn't 14 days later that she was born; it was 14 hours later! Every father knows, after staring at the flickering florescent ceiling lights all night in the hospital, that all babies are born at 6 AM. This was only 6PM!

We did not make it to the hospital, but, rather, she was born at the top of the stairs on the second floor. But it wasn't that normal. We were going to the hospital. On the way to the top steps, mother said, "I am having the baby!" I went to the bedroom to get my telephone. When I came back, the baby's head was out, but the bag was not broken. It still covered the baby's head. I could see the eyes and nose through the membrane. I got down on one knee and said, "It is all right to have the baby at home." With one little push, the baby was in my hands! I didn't spank the little thing; I simply told her that it was all right to breathe. In seconds, when I heard her breathe, I called the hospital with my other hand and told them to send the ambulance. When we arrived at the emergency entrance to the hospital, the doctor was waiting outdoors on the asphalt for us. He said, "Congratulations Doctor Buchanan. I am Dr. Lake." So, here I am, Doc Buchanan. I kept the name. I tell people that it is like a battlefield commission. I'm not a real doctor; I am just Doc Buchanan

Now I anxiously watch and pray for Jesus' return and the establishment of the kingdom of God on this earth. I want it desperately. I want to see healthy and happy people, no longer dying and hungry people. I want to see joy, peace, love and prosperity all around the world. It is worth working for it.

G.E. 'Doc' Buchanan
His email address is: Doc1111@protonmail.com
'Doc' Buchanan is recovering from an automobile accident, but is available for counseling. As a backup, Michael Doles has agreed to provide baptismal counseling. Michael Doles and his wife Sheila live in Phoenix, Arizona. His email address is mjdoles@msn.com. So, if you are in the USA or Canada, please feel free to contact him about counseling matters if you cannot connect with Doc Buchanan.
For counseling in other areas, please contact the minister or host for the area. A listing of congregation locations, minister/host names, and email addresses is in the following link: Congregations of the Continuing Church of God.
Dr. Bob Thiel also tries to counsel, respond to prayer requests, send out anointed cloths, personally anoint the sick, handle funeral matters, answer questions when asked, etc. His email address is cogwriter@aol.com. If you do request that an anointed cloth be sent to you, please include your full mailing address, even if we have it in a file.
As far as baptisms go, so far in the USA, Dr. Bob Thiel has performed them when he is traveling to an area, like at the Feast of Tabernacles.