The Continuing Church of God uses many forms of media and methods to reach people around the world as we work to fulfill the commissions from Jesus in Matthew 24:14 and 28:19-20.
For ease of finding them, many are listed here.
Prophecy & Sermonette Videos

Jesus said:
7 "And to the angel of the church in Philadelphia write,

'These things says He who is holy, He who is true, "He who has the key of David, He who opens and no one shuts, and shuts and no one opens": 8 "I know your works. See, I have set before you an open door, and no one can shut it; for you have a little strength, have kept My word, and have not denied My name. (Revelation 3:7-8, NKJV throughout unless otherwise specified)

14 And this gospel of the kingdom will be preached in all the world as a witness to all the nations, and then the end will come. (Matthew 24:14)

4 I must work the works of Him who sent Me while it is day; the night is coming when no one can work. (John 9:4)
The open door has to do with proclaiming the gospel (cf. 1 Corinthians 6:9; 2 Corinthians 2:12). With Jesus' words in mind, that is part of why we are on multiple video and other platforms.
Here are sermonette platforms:

BibleNewsProphecy https://www.youtube.com/user/BibleNewsProphecy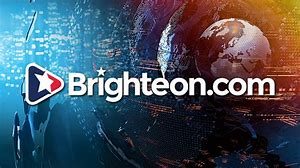 Bible News Prophecy https://www.brighteon.com/channel/ccogbnp
CCOG https://www.dailymotion.com/dm_e24c8ac0050c5e7445cd5573711869c6/videos

Prophecy https://www.bitchute.com/channel/prophecy/

Prophecy https://brandnewtube.com/@prophecy


Bible News Prophecy  https://vimeo.com/channels/biblenewsprophecy
Sermons Online
Sermons are online at the following platforms: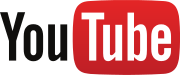 ContinuingCOG https://www.youtube.com/continuingcog

We also have some videos in languages other than English:
CCOGAfrica channel. This has messages from African pastors in African languages such as Kalenjin, Kiswahili, Embu, and Dholuo. Also available at BitChute COGAfrica https://www.bitchute.com/channel/cogafrica/

CDLIDDSermones channel. This contains messages in the Spanish language.
Our sermonette and sermon platforms have had millions of views.
Animations
Animations are online at the following channels: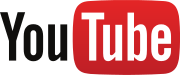 CCOG Animations https://www.youtube.com/channel/UCbfg4C4ASDeMozpQmB-122Q


COGAnimations https://www.bitchute.com/channel/coganimations/
Literature
We put out both printed literature as well as making literature available online.
Bible News Prophecy magazine. This is the official magazine of the Continuing Church of God and it has articles on a wide variety of subjects of Christian interest. It has been produced in multiple languages including English, Spanish, Tagalog, Kiswahili, German, Dholuo, and Mandarin Chinese.
Books and Booklets The Continuing Church of God has numerous free books and booklets available online dealing with the God of the Bible, doctrine, church history, Christian living, and prophecy. These can be found at the following link: Books and Booklets of the Continuing Church of God.
We also produce a Bible Study Course: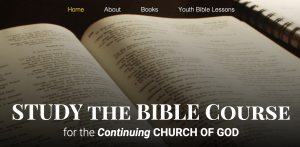 Study the Bible Course https://studythebiblecourse.org
Plus we produce Youth Bible Lessons.
Academia
We also utilize Academia.edu, whose logo is shown below:

We reach both secular and religious scholars as well as people more interested in researched information on doctrine, prophecy, and church history.
The use of Academia.edu is an interesting open door as it helps us reach leaders that we otherwise would be less likely to reach. These viewers are now getting exposed to historical information about the true Church of God that they likely have not  gotten. Not only is this a witness (cf. Matthew 24:14), it is also an avenue that could get more doctrinal truth to others should any refer to our literature in any of their writings.
On a somewhat related note, Dr. Thiel has had numerous articles published in the Sabbath Sentinel which reaches Sabbath-keepers around the world that may not otherwise be reached.
Radio and Television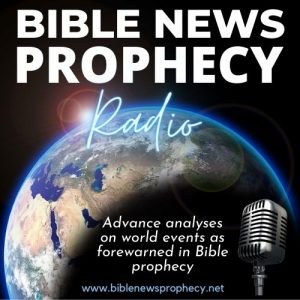 Millions of people have been reached over the radio. Dr. Thiel has been a radio guest hundreds of times on stations across North America, and has reached millions that way.
Furthermore, we have Bible News Prophecy online radio. This is an audio version of the Bible News Prophecy videos as well as other audio messages. It is also available as a mobile app.
We also have the BibleNewsProphecy Podcast. This has audio-visual podcasts of the Bible News Prophecy channel. It plays on i-Phones, i-Pads, and Windows devices that can play i-Tunes.
We also produce the Bible News Prophecy radio program. Normally, five programs per week.
Legacy Broadcasting, Inc. currently has four radio stations and is building a fifth, with the intention of ultimately having scores of stations–we have made arrangements for being on up to nine stations with them.
Here are the Legacy stations the Bible News Prophecy radio program is on:
WCDG 88.7 FM, Dahlonega, Georgia
WUCG 93.1 FM Blairsville, Georgia
KYMS 89.9 FM, Rathdrum, Idaho
KHKM 98.7 FM, Missoula, Montana
Here is another place that program is broadcasted on: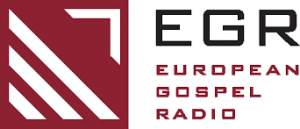 European Gospel Radio (EGR) broadcasts the program weekly on its AM station Monday 21:30-21:45 CET on AM/MW 1323 kHz + streaming (CET=Central European Time: local time in Central Europe).
The following is the coverage map for the AM signal for its new 1323 kHz signal location as well as the nations EGR says that station can reach:
We cover a wide area including, but not limited to: Northern and Central Italy, Southern Germany, Switzerland, Austria, Croatia, Slovenia, Southern France, Germany, with DX reception so far reported also in Spain, the Netherlands, Sweden, Finland, Norway, Czech Republic, Slovakia.
This broadcast is also on shortwave at the 7295 KHz location from them from late October through late March. And from late March to late October it is 7290 KHz on shortwave. Here is the coverage map that European Gospel Radio provided for the shortwave station: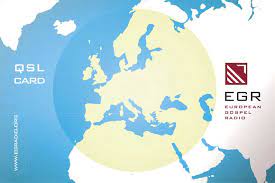 In North America and Asia we can be reached on Radio Miami International, WRMI.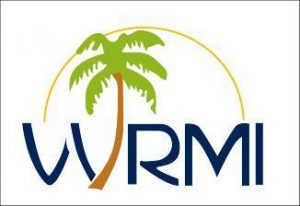 Here is a map of part of the reach of the frequency 5850 kHz we are now on: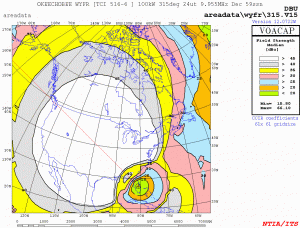 The station owner of WRMI, Jeff White, added:
Unfortunately the map doesn't go much further than Alaska, but if you follow the beam on across the Pacific, the center of the 315-degree beam is close to many places in Asia, such as Korea, Japan, Beijing and Shanghai in China, Hong Kong, Taiwan, the Philippines and the Russian Far East including Vladivostok and Kamchatka.
Here are some details and times for WRMI:
5850 kHz: 0130 UTC Monday, Tuesday, Wednesday, and Friday
Which would be received in the North America on Sunday, Monday, Tuesday, and Thursday at 9:30 pm Eastern Daylight Time and 8:30 pm Eastern Standard Time.
In Asia, this program would begin at 10:30 am Japan/Korea Standard Time and 09:30 China Standard Time on Monday, Tuesday, Wednesday, and Friday.
Radio is a proclamation door that we use to reach those we otherwise would not reach. It also assists us we work to toward doing our part to fulfill Romans 11:25 about the full number of Gentiles coming in (see also What About Romans 11:25 and the Full Number of the Gentiles?).
In addition to online radio and being on EGR and WRMI, we are on the air in the Philippines on one station and Africa on four stations.
Here is the station in the Philippines: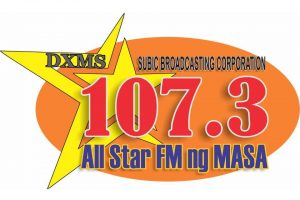 The above station comes from Surigao City. The name of the station is DxMS 107.3 All Star FM. We are on Sundays from 7:00 to 8:00 a.m.
In Kenya, we are on one station, with three presenters. The presenters are Grantone Otieno, Joel Owuoti, and Charles Agwenge.
Here is the one we are regularly on:

The above station comes from Migori, also reaches Tanzania, and is a called Radio Milambo and is on 103.8FM. We are on Fridays from 6:00 pm – 7:00 pm.
In addition to being on internet television platforms, we are also on radio and television in Ghana in the language of Asanti Twi.
Here is information on one of the stations: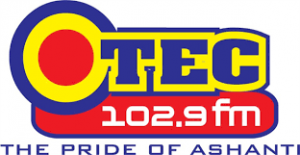 The above station also live streams the radio broadcast onto television. The radio position 102.9 FM. We are on Sundays from 7. 00 to 7.30am.
Here is information on the other station: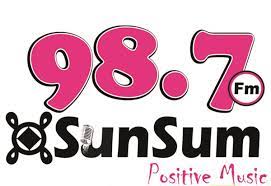 The above station also live streams the radio broadcast onto television. The radio position 98.7 FM. We are on Tuesdays from 6.00am to 7.00am.
Depending on the television, most of the video platforms for our sermons and sermonettes can also be seen on television.
Plus, related to radio, Dr. Thiel regularly has guest appearances on the Genesis Communications Network, which covers much of North America.
Internet Campaigns
We have internet advertising campaigns to also reach people around the world.

According to Google, over 402 million impressions on computers around the world have been occurred through CCOG's 'church history' and 'universal offer of salvation' campaigns, since we started this with them in May of 2013 (though we do not know how many are unique computers as opposed to those being reached multiple times). We are regularly reaching millions around the world with this method.


We also have a special campaign on Microsoft which focuses on the Sabbath which has had over 285,000 computer impressions. We regularly are reaching thousands around the world with this method.
Online News and Doctrine
Daily Bible News and Prophecy Updates

Pinterest is a discovery visual engine, inspires ideas and more. Pins (posters) are created about BNP, news, or sermon items are added to the Pinterest page. In its initial years, a lot of the content added was from COGwriter news articles, with over 130,000 impressions, now due to censorship issues, only certain subjects are added.
MeWe is a social media site, similar to facebook, but without the censorship, ads, or news feed manipulation. We joined in 2022. Content shared on MeWe is from BNP radio, COGwriter, including any new literature.
According to Ello.co, "Ello is a community to discover, discuss, publish, share and promote the things you are passionate about."
We only add items on this page when we have created digital posters, or for posting CCOG magazines and books.

Tumblr is a social media site and free blog site to share your content with others who may be interested. COGwriter articles and BNP radio items are shared here.
"…contend earnestly for the faith that was once for all delivered for the saints" (Jude 3).
COGwriter.com has over 12,000 articles, books, and news posts. the COGwriter Church of God News page has three posts (sometimes more) per day.
Facebook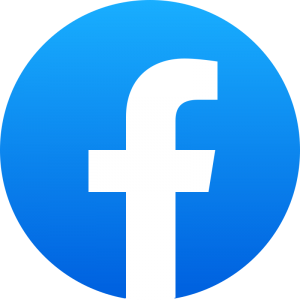 Continuing Church of God Facebook page This has news and prophetic information.
Continuing Church of God, Africa, Facebook page This has news and prophetic information.
Continuing Church of God, Canada, Facebook page This has news and prophetic information.
Continuing Church of God, Europe, Facebook page This has news and prophetic information.
Personal Visits
Jesus said:
19 Go therefore and make disciples of all the nations, baptizing them in the name of the Father and of the Son and of the Holy Spirit, 20 teaching them to observe all things that I have commanded you; and lo, I am with you always, even to the end of the age. (Matthew 28:19-20)
Whether called personal visits or missionary trips, we have sent men to preach in the following lands:
Australia
Brazil
Canada
Ethiopia
Ghana
Haiti
Kenya
India
Ireland
Israel
Italy
Ireland
Malawi
Mexico
Mozambique
Netherlands
New Zealand
Panama
Philippines
Puerto Rico
Serbia
South Sudan
Tanzania
Uganda
United Kingdom
United States
Zambia
We have numerous congregations around the world. See also: Congregations of the Continuing Church of God.
We also  hold online services for our scattered brethren in North America and Europe.
Contact Dr. Thiel at COGwriter@aol.com for details.
Holy Day Calendar
We have the following calendar of biblical holy days:
Holy Day*

2021

2022

2023

2024

2025

2026

2027

2028

2029

2030

2031

2032

2033

Passover
Mar 27
Apr 15
Apr 5
Apr 22
Apr 12
Apr 1
Apr 21
Apr
10
Mar
30
Apr 17
Apr 7
Mar
26
Apr 13
Unleavened Bread
Mar 28-Apr 3
Apr 16-22
Apr 6-12
Apr 23-29
Apr 13-19
Apr 2-8
Apr 22-28
Apr
11-17
Mar 31-Apr 6
Apr 18-24
Apr 8-14
Mar 27 – Apr 2
Apr 14-20
Pentecost
May 16
Jun 5
May 28
Jun 16
Jun 1
May 24
Jun
13
Jun
4
May
20
Jun
9
Jun
1
May
16
Jun 5
Trumpets
Sep 7
Sep 26
Sep 16
Oct 3
Sep 23
Sep 12
Oct
2
Sep
21
Sep 10
Sep 28
Sep 18
Sep
6
Sep 24
Atonement
Sep 16
Oct 5
Sep 25
Oct 12
Oct 2
Sep 21
Oct
11
Sep
30
Sep
19
Oct
7
Sep
27
Sep
15
Oct 3
Feast of Tabernacles
Sep 21-27
Oct 10-16
Sep 30-Oct 6
Oct 17-23
Oct 7-13
Sep 26-Oct 2
Oct 16-22
Oct
5-11
Oct 10-16
Oct 12-18
Oct 2-8
Sep
20-26
Oct 8-14
Last Great Day
Sep 28
Oct 17
Oct 7
Oct 24
Oct 14
Oct 3
Oct 23
Oct
12
Oct 17
Oct
19
Oct 9
Sep
27
Oct 15
Seventh Day Sabbath Keepers
We have a website related to the seventh day Sabbath and Sabbatarian groups:
Gospel of the Kingdom in Multiple Languages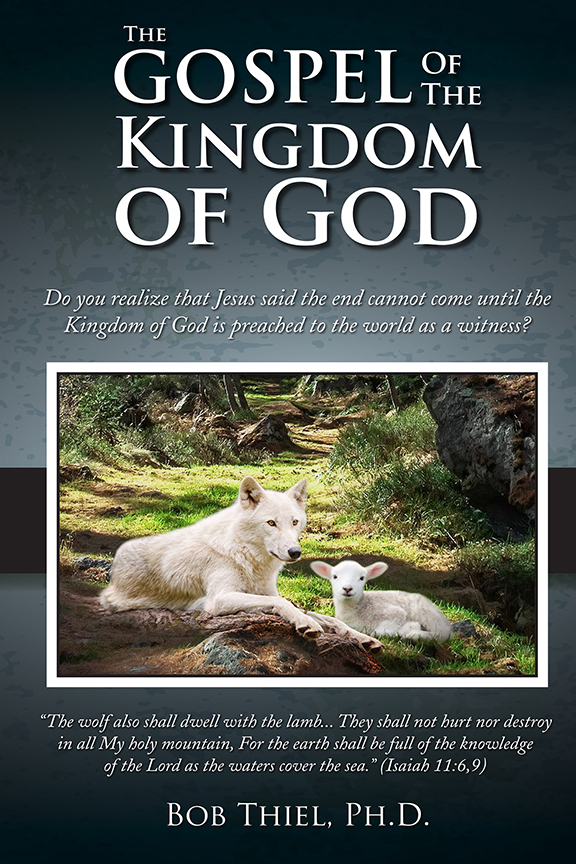 Our English language booklet, The Gospel of the Kingdom of God, has been translated in over 300 languages (including dialects and sub-languages). That booklet and often other literature is available in the following languages:
Abkhaz Аԥсуа бызшәа
Achi Achi'
Adinkra Adinkra
Afrikaans Afrikaans
Afar Qafar af
Agutaynen Agutaynen
Ainu アイヌ
Aka-Jeru Yerawa
Akan Ákán
Akatek Akatek
Akawaio Akawaio
Akkadian Akkadian
Akkala Sami Akkala Sámi
Aklan Aklan
Akurio Akurio
Albanian Shqip
Aleutese Aleut
Aloápam Zapotec Aloápam Zapotec
Alsatian Alsatian
Altay Altai
Amawaka Amawaka
Amharic አማርኛ
Arabic العَرَبِيَّة
Aramaic ܐܪܡܝܐ
Armenian հայերէն
Arrernte Arrernte
Asante Twi Asante Twi
Ashaninka Ashaninka
Assamese Assamese
Assiniboine Assiniboine
Auvergnat Auvernhat
Awadhi Awadhi
Aymara Aymara
Azerbaijani Azərbaycan
Bambara Bambara
Bangla বাংল া
Bashkir Bashkir
Batak Mandailing Batak Mandailing
Batak Simalungun Batak Simalungun
Batak Toba Hata Batak Toba
Basque Euskara
Baoulé Baoulé
Belarusian беларуская мова
Bengali বাংলা 
Bhili भीली
Bhojpuri Bhojpuri
Bicol Bicol
Biloxi Biloxi
Bodo बर'/बड़ो
Bosnian Bosanski
Bulgarian български
Bulu Bulu-Bene
Bundelkhandi बुन्देली/बुंदेली
Burmese မြန်မာစာ
Busa Odiai
Bushi Shibushi
Cabecar Cabécar
Caddo Caddo
Cajamarca Quechua Kashamarka Runashimi
Calamian Tagbanwa Tinagbanwa
Caluyanon Caluyanon
Candoshi-Shapra Kandozi-Chapra
Cantonese Cantonese
Cape Verdean Cape Verdean
Capeiznon Capiceño
Caquinte Caquinte
Car Pū
Carrier Carrier
Casiguran Dumagat Agta Casiguran Dumagat
Catalan Català
Cayuga Cayuga
Cebuano Bisayâ
Cenoufo Cenoufo
Central A. Spanish Español centroamericano
Central Sinama Central Sinama
Chakma Latin Chakma Latin
Chakma 𑄌𑄋𑄴𑄟𑄳𑄦
Chaldean Chaldean
Cham ꨌꩌ
Chambeali 𑚏𑚢𑚶𑚠𑚣𑚭𑚥𑚯
Chami Chami
Chamicuro Chamicuro
Chamling चाम्लिङ
Cha'palaa Cha'palaa
Chhattisgarhi छत्तीसगढ़ी
Chichewa Nyanja 
Chichicápam Zapotec Chichicápam Zapotec
Chilcotin Tŝinlhqut'in
Chinanteco Chinanteco
Chinese – Literary Chinese – Literary
Chinese – Simplified Chinese – Simlified
Chinese Traditional Chinese Traditional
Chinook Jargon Chinuk Wawa
Chipewyan Denesuline
Chittagonian চাটগাঁইয়া
Chiwere Chiwere
Choctaw Chata
Chokwe Chokwe
Chol Ch'ol
Chontal Maya Yokot'an
Chorti Ch'orti'
Chrau Jro
Chru Chru
Chuj Koti
Chukchi Chukchi
Chuukese Chuukese
Chuvash Chuvash
Chuwabo Chuwabo
Croatian Hrvatski
Corsican Corsu
Czech Český
Dagaare Dagaare
Dagbani Dagbani
Danish Dansk 
Danwar Danwar
Dargwa дарган мез
Dari دری
Dawan Uab Metô
Deg Xinag Deg Xinag
Deutsch Deutsch
Dhao Ndao
Dhimal धिमाल
Dholuo Dholuo
Dhundari ढूण्ढाड़ी
Dhuwal Dhay'yi
Digo Chidigo
Dogri Dogri
Dutch Nederlands
Dyula Dyula
Ekegusii EkeGusii
Elfdalian Övdalian
Emae Fakamae
Emilian-Romagnol Emiliano-Romagnolo
Ende Ende
Enets Онэй база
English English
Eperara Saija
Erromintxela Erromintxela
Erzya эрзянь
Esperanto Esperanto
Estonian Eesti keel
Even эвэды торэн
Evenki-Latin Evenki-Latin
Ewe Ewe
Eyak Eyak
Faroese Føroyskt mál
Fiji Hindi Fiji Baat
Fijian Fijian
Filipino Filipino
Finnish Suomalainen
Finnish Kalo Kaalengo Tšimb
Folkspraak Folkspraak
Foodo Foodo
Fordata Vaidida
Frafra Farefare
Franco-Provenáal Franco-Provençal
French Français
French Guianese Creole Kriyòl gwiyannen
Frisian Frisian
Friulian Friulan
Fulani Fulani
Fur Bèle Fòòr
Fulani Fulani
Futuna-Aniwa Futuna-Aniwa
Futunan Faka futuna
Galician Galego
Gan Gan
Garawa Garawa
Garhwali गढ़वळि
Gascon Gascon
Gaulish Gaulois
Gawar Kortchi
Genoese Zeneize
Georgian ქართული
German Deutsch
Ghari Gari
Gitxsan Gitxsanimaax
Godoberi ГъибдилIи
Goemai Ankwe
Gogo Cigogo
Gondi గోండి
Gonja Ngbanya
Greek Ελληνική
Gujarati ગુજરાતી
Güilá Zapotec Güilá Zapotec
Haitian Haitian
Hakha Chin Laiholh
Haisla Haisla
Haitian Creole Kreyòl Ayisyen
Haitian Haitian
Hajong হাজং
Halbi हलबी
Halkomelem Halq̓eméylem
Hamer Hamer-Banna
Han Hän
Hani Haqniqdoq
Harari ሀረሪ
Haryanvi हरियाणवी
Hawaiian Ōlelo Hawaiʻi
Hawu Sabu
Haya Ziba
Hebrew עִברִית
Hidatsa Hiraaciré
Hiligaynon Ilonggo
Hill Mari Hill Mari
Hindi हिंदी
Hindi-Latin Hindi-Latin
Hindustani हिन्दुस्तानी
Hmong Hmong
Hungarian Magyar
Ibibio Usem Ibibio
Icelandic Íslenska
Ido Ido
Ifugao Batad
Igbo Igbo
IIocano IIocano
Ikwerre Ikwerre
Indonesian Bahasa Indonesia
Inabaknon Abaknon
Inapari Iñapari
Inari Saami Anarâškielâ
Ingrian Ingrian
Inuinnaqtun Inuinnaqtun
Iraqw Iraqw
Irish Gaeilge
Italian Italiano
Japanese 日本語
Javanese Jawa
Kadazandusun Kadazandusun
Kapampangan Kapampangan
Kapingamarangi Kapingamarangi
Karachay-Balkar Къарачай-Малкъар тил
Kannada ಕನ್ನಡ
Karachay-Balkar Къарачай-Малкъар тил
Kashubian kaszëbsczi
Kavango Kavango
Kazakh қазақша
Khmer ភាសាខ្មែរ
Khwanyama Oshikwanyama
Kikuyu Kikuyu
Kimasai Kimasai
Kirundi Kirundi
Kiswahili Kiswahili
Kongo Kongo
Konkani Konkani
Korean 한국어
Kurdish Kurdî 
Kurdish-Sorani Kurdish-Sorani
Kurmanji Kurmanji
Kyrgyz кыргызча
Laalaa Laalaa
Ladhakhi ལ་དྭགས་སྐད་
Ladin Ladin
Ladino Ladino
Lambadi Lambadi
Lao ພາສາລາວ
Latin Latinae
Latvian Latviešu valoda
Lezgi лезги чӏал
Lhotshamkha ल्होत्साम्पा
Lingala Lingala
Lithuanian lietuvių
Livonian līvõ kēļ
Lombard Lombard
Lozi Lozi
Luganda Luganda
Luri Luri
Luxembourgish Lëtzebuergesch
Macedonian Македонски
Machiguenga Matsigenka
Magadhi 𑂧𑂏𑂯𑂲
Magar मगर ढुट
Maithili मैथिली
Makhuwa Emakuana
Malagasy Malagasy
Malay Bahasa Melayu
Malayalam മലയാളം 
Maltese Malti
Malto माल्टो
Maori Te Reo
Mandarin (Chinese) 普通话
Manx Manx
Malayalam Malayalam
Mapudungun Mapudungun
Marathi मराठी 
Mari Mari
Mende-Latin Mende-Latin
Mirandese Mirandese
Mizo Mizo
Mongolian Монгол
Moldovan Moldovan
Moghol مُغُلی
Mongolian Cyrillic Монгол Кирилл
Montenegrin crnogorski
Mossi Mòoré
Multani 𑊠𑊂𑊣𑊖𑊀𑊚𑊁
Mundari मुंडारी
Myanmar Myanmar
Myanmar – Burmese Myanmar – Burmese
Nagamese Creole Naga Pidgin
Nafusi Ažbali
Nahuatl Nahuatl
Nauruan Nauruan
Navajo Diné bizaad
Ndau Ndau
Ndebele Nbebele
Neapolitan Napulitano
Nepali नेपाली
Ngoni Songea
Nhaneca Nhaneca
Niuean Niuean
Northern Emberá Cholo
Norman Normaund
Norsk Norsk
Norwegian Norsk
Nukuoro Nukuoro
Nyakyusa Ngonde
Obolo Andoni
Occitan Occitan
Okinawan Uchināguchi
Oromo Oromo
Ossetian ирон ӕвзаг
Paez Nasa Yuwe
Pahari पहाड़ी
Palauan a tekoi er a Belau
Papiamento Papiamentu
Parya Parya
Pashto پښتو
Persian فارسی
Pohnpeian Pohnpeian
Polish Polskie
Portuguese Português
Punjabi ਪੰਜਾਬੀ ਦੇ
Punjabi Indian Punjabi Indian
Punjabi Pakistani Punjabi Pakistani
Punjabi-Shahmukhi Punjabi-Shahmukhi
русский русский
Q'anjob'al Kanjobal
Q'eqchi' Kekchi
Qashqai قشقایی ديلى
Queretaro Otomi Ñäñho
Rade Rade
Raga Hano
Rajasthani राजस्थानी
Rajbanshi Tajpuria
Romanian Română
Romansh Romontsch
Russian Rusă
Saanich Saanich
Sadri Nagpuri
Sahaptin Sahaptin
Sami Sámi
Samoan Gagana fa'a Sāmoa
Sangho yângâ tî sängö
Sankethi Sankethi
Sanskrit Sanskrit
Sardinian Sard
Sarikoli Sarikoli
Scots Gaelic Gàidhlig
Sepedi Sepedi
Serbian Српски
Sesotho Sesotho
Shona chiShona
Shughani Shughani
Sicilian Sicilianu
Silesian Silesian
Sindhi سنڌي 
Sinhala Sinhala
Sinhalese සිංහල
Slovak Slovenčina
Slovenian Slovenščina
Somali Af-Soomaali
Spanish Español
Sundanese Sundanese
Susu Sosoxui
Swahili Swahili
Swati Swazi
Swedish Svenska
Tabassaran табасаран чIал
TagabawÖ Tagabawa
Tagalog Tagalog
Tahitian Tahitian
Tajik тоҷикӣ 
Talysh Tolışə zıvon
Tamil தமிழ்
Tatar Tatar
Telugu తెలుగు
Tetum Tétum
Thai ภาษาไทย
Tibetan Tibetan
Tiv Tiv
Tok Pisin Tok Pisin
Tongan Tongan
Tshiluba Cilubà
Tsonga Tsonga
Turkish Türkไทย
Turkmen Turkmen
Twi Twi
Ubir Kubiri
Ubykh Ubykh
Udmurt Udmurt
Ulithian Yulidiy
Uyghur Uyghur
Upper Sorbian Upper Sorbian
Urdu اردو
Uzbek Oʻzbekcha
Uzbek-Cyrillic Uzbek-Cyrillic
Vaeakau-Taumako Vaeakau-Taumako
Vai Vai
Venedic Venedic
Vietnamese Tiếng Việt
Wa Va
Waama Yoabu
Welsh Cymraeg
Western Transdanubian Western Transdanubian
Xhosa isiXhosa
Xiang Chinese  湘語
Yabem Jabêm
Yaeyama 八重山物言
Yagua Nijyamïï
Yakama Yakama
Yao chiYao
Yapese Yapese
Yevanic יעואני גלוסא
Yiddish יידיש
Yoruba Èdè Yorùbá
Yucatec Maya Yucatec Maya
Yupik Yupik
Yzghulami Yzghulami
Záparo Záparo
Zazaki Zazaki
Zulu isiZulu
Zuni Zuñi
中国 中国
未分类的 未分类的
杂志 杂志
Internet Sites
We reach people around the world on various websites. Here is a list:
CCOG.ASIA We in the Continuing Church of God also have the url www.ccog.asia which has a focus on Asia and has various articles in Mandarin Chinese as well as some in English, plus some items in other Asian languages. 我们在继续神的教会也提供此网址 www.ccog.asia, 关注于亚洲并且有各种各样的中英文文章,其中一些用菲律宾语翻译的文章也正在进行中,准备添加到这个网站中。 Here is a link to our Statement of Beliefs in Mandarin Chinese 继续神的教会的信仰声明.
CCOG.IN This is a website targeted towards those of Indian heritage. It has a link to an edited Hindi translation of The Mystery of the Ages and is expected to have more non-English language materials in the future.
CCOG.EU This is a website targeted toward Europe. It has materials in more than one language (currently it has English, Dutch, and Serbian, with links also to Spanish) and it is intended to have additional language materials added.
CCOG.NZ This is a website targeted towards New Zealand and others with a British-descended background.
CCOGAFRICA.ORG This is a website targeted towards those in Africa.
CCOGCANADA.CA This is a website targeted towards those in Canada.
CDLIDD.ES La Continuación de la Iglesia de Dios. This is the Spanish language website for the Continuing Church of God.
CG7.ORG This is a website for those interested in the Sabbath and churches that observe the seventh day Sabbath.
PNIND.PH Patuloy na Iglesya ng Diyos. This is the Philippines website Continuing Church of God. It has information in English and Tagalog.