We accept tithes, offerings, and other financial donations.
Those who wish to voluntarily aid and support this worldwide Work of God are gladly welcomed as co-workers in this major effort to preach and publish the gospel to all nations per Matthew 24:14 and Matthew 28:19-20.
Our mailing address is Continuing Church of God, 1036 W. Grand Ave., Grover Beach, CA 93433.  Telephone is 1-805-574-1818.
Some have sent checks, others cash, others money orders, and even have used Western Union to donate.  We also accept bank transfers.  We also do have a way to accept donations via VISA/MasterCard/Discover.
We do accept donations via PayPal (which also will handle many major credit cards).  Simply click on the Donate button below and you can enter any amount that you wish to donate to the Continuing Church of God:
And yes, in the USA, donations are immediately tax deductible as we have full IRS tax exempt status per Title 26 IRC 508(c)(1)(A). For those who in live in the State of California, we were specifically-approved in writing for our request for tax exemption status there. California nonprofit corporation number C3558924.
Donations to the Continuing Church of God are 100% deductible in all the US states.
Tax exempt status in New Zealand was also approved, and hence donations in New Zealand are also fully tax deductible. Check out CCOG.nz as you have to send donations to New Zealand for them to be deductible there.
Tax exempt status in Canada was also approved, and hence donations in Canada are also fully tax deductible. Check out CCOGCANADA.CA as you have to send donations to Canada for them to be deductible there.
What does the US office of the Continuing Church of God spend money on?
Jesus said, "where your treasure is, there your heart will be also" (Matthew 6:21).
In the CCOG we really do focus on others and reaching the world with the Gospel of the Kingdom of God.
Some have wondered how the US office of the Continuing Church of God spends the funds it received.
Unless you specifically designate it (like for Africa, which means 100% of what you send goes there), on average, if you sent the CCOG a US check for US$100.00 in 2019 here is how it was spent: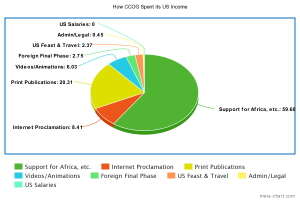 Support to or for Africa, Serbia, Haiti, Mexico, and the Philippines $59.68
Internet proclamation $8.41
Printed publications $20.31
Video and animation production $6.03
Foreign final phase of the work $2.75
US Feast of Tabernacles' costs and US travel $2.37
Administration and US legal expenses $0.45
Salaries, health insurance, and retirement plans for US leaders $0.00
Yes, most of our money goes to support the spiritually poor (essentially everyone) and physically poor as we work to fulfill Matthew 24:14, Romans 11:25, the Ezekiel Warning, and Matthew 28:19-20.
1. Support to Africa includes paying for African ministerial expenses, gospel proclamation, travel, printing literature, certain translations, youth camps, distributing literature, meeting space assistance, supporting the poor (Galatians 2:10; Romans 12:13; cf. James 2:14-16; Hebrews 13:16; Isaiah 58:7; Proverbs 28:27), including widows and orphans (James 1:27). And yes, since we print and distribute literature in Africa, we spend more on literature production than is shown in item 3. Support 'for' includes expenses paid to people who were traveling to some of these places. Funds to Serbia provide ministerial and other support, including producing materials (mainly electronic) to reach and teach people, not only in Eastern Europe, but also around the world. While most of the direct support for Haiti comes from the Canadian office, the USA office helps advise on this, as well as has not asked for funds to reimburse for literature it produces and sends to Canada in order for that office to better be able to provide support for Haiti. Mexico expenses were related to sending Louis Rubin to visit as well as paying expenses related to the Feast of Tabernacles there. Philippine expenses were mainly related to sending Jay Chiang to handle a funeral as well as some expenses related to the Feast of Tabernacles there. The vast bulk of the money in this Support category goes to Africa as that is where the vast majority of our members reside and where many fruits are being produced.

2. Internet proclamation includes paying for servers, URL fees, and our Google campaign to reach people around the world. The Google campaign has now made 178 million computer impressions with parts of the Philadelphian message.

3. Printed publications include the production, printing, and distribution of the Bible News Prophecy magazine in various languages as well as various books and booklets. The costs here also include formatting non-English literature in forms that it can be available on the internet as well as forms to allow it to be printed in the USA and Africa.

4. Video and animation production covers the costs to produce the BibleNewsProphecy videos, CCOG animations, the Behind the Works video, and the creation of DVDs that are sent to some international locations for the Feast of Tabernacles. It also, sometimes, includes costs for sermon production–but those costs are negligible.

5. Foreign expenses (incurred outside the US) related to the final phase of the work (essentially long-term proclamation matters and international connections). US expenses related to the final phase of the work are in other categories (like printed publications and internet expenses).

6. US Feast of Tabernacles' costs include what the hotel charges for the meeting room and some travel and other expenses. This category also includes other travel, which tends to be low. An example of US travel would be costs associated with Deacon Richard Close making a baptizing and counseling tour.

7. Administration and US legal expenses. This tends to include a few office supplies, mandatory government fees, and telephone costs. US legal fees for 2019 consisted in contacting a copyright attorney to ask about the viability of producing youth Bible lessons that another church once copyrighted–this was a very small charge. Dr. Thiel's business office does NOT charge the CCOG for use of space, electricity, postal machine use, etc. Now, it should also be mentioned that for those who send funds via PayPal, PayPal deducts between one – three percent and those costs are not reflected here as we used the example of someone sending a US check. Let it be pointed out that PayPal is still the most cost-effective way of sending US dollars from outside the US and is also conveniently effective for US supporters that use it.

8. Salaries are not paid to leaders in the USA. People such as Bob Thiel, Richard Close, Steve Dupuie, Louis Rubin, and Terry Nelson are not paid—all have freely donated time. Nor have we paid their spouses. Nor have we funded any retirement nor health insurance plans. It is not that we would not consider having a paid USA ministry, but we had none in 2019. (Note: We did not list all our unpaid USA volunteers, only those that we from the Grover Beach office have requested to travel on CCOG's behalf.)
We strongly believe that whatever you send is well spent to support the Philadelphian remnant as we work on Matthew 24:14 and Matthew 28:19-20 while we strive to be ready for the short work and our part in the final phase of the work.
Hear the words of Jesus:
 2 … The harvest truly is great, but the laborers are few; therefore pray the Lord of the harvest to send out laborers into His harvest. (Luke 10:2).
Pray for more laborers for the harvest. Thank you for your support.