Dear Brethren and Co-Workers in Christ:
Greetings from the Five Cities region of California.
This week's recommended sermon finishes our covering of the Book of Romans that the Apostle Paul was inspired to write.
In case you missed any of the sermons in this series, or should you wish to review one or more that you watched, here is a list:
Romans 1-2: Believe the Truth of God
Romans 3:-6: Sin, Law, Grace, Salvation
Romans 7-8: God's Spirit and Guarantee
Romans 9-10: Grace, Mercy, Salvation
Romans 11-12: Gentiles, Jews, and the Fulness
Romans 13-16: Obedience, Gentiles, Love, and Women
In the Continuing Church of God we are committed to teaching what the Bible teaches and when we cover entire books of the Bible, that insures that we are "speaking the truth in love" as the Apostle Paul elsewhere wrote (Ephesians 4:15).
Last Day of Unleavened Bread
Deacon Koang Deng sent the following from Ethiopia: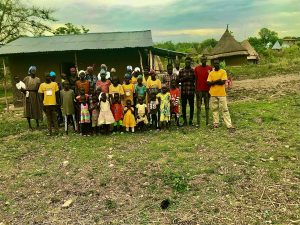 Dear elders:

We all give thank to him for his great blessings on us all.

This is a photo we have taken on a day of last celebration of the feast of unleavened bread.

Thank you.

Koang Deng.
The seventh day of unleavened bread went well here in California as well.
Radio
I was on the NutriMedical Report on yesterday and the prior Wednesday discussing the beginning of sorrows and the four horsemen of the Apocalypse. The program is broadcast on the Genesis Communications Network (GCN). Wikipedia reports:
The Genesis Communications Network, often referred to as GCN, is a radio network created in 1998, owned by Ted Anderson. The network currently produces 45 shows, distributed on more than 780 radio stations nationwide. The network is known for talk programming. (Accessed 04/27/22)
A positive aspect of GCN is that it does not have the type of 'cancel culture' censoring that many networks have. The negative is that it airs a lot of inaccurate materials along with accurate information.
According to GCN, it appears that the NutriMedical Report is its sixth most popular live stream program (it is not clear about its radio station presence).
Anyway, being on that program, despite various issues, can help us reach people in North America.
GCN does not have the same censorship issues we have been encountering on the internet, and is one reason we are looking more at radio and streaming options.
As most of you realize, the CCOG has its own radio program in Kenya (often in the language of Kiswahili) which also reaches people in Tanzania. We also have a radio presence in Ghana.
That being said, we also have an international online radio presence with Bible News Prophecy online radio–which comes out of New Zealand.This morning, Shirley Gestro sent an email with the following updated logo: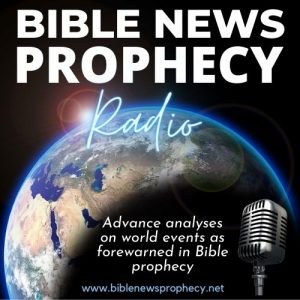 We have been having discussions about regularly putting up more content on it. Shirley reported receiving three news audios (two from elder Aleksandar Veljic, and one from James Martenet). Now, instead of having one per week on online radio, we expect to have probably 5 per week, which should help build the audience.
Radio is a door that we use to reach those we otherwise would not reach–and we currently are looking at a couple of ways to increase our radio presence around the world.
Update on Doc Buchanan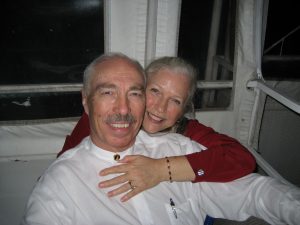 George and Jo Anne Buchanan
Jo Anne Buchanan, wife of elder George 'Doc' Buchanan sent the following update on his accident recovery:
Hi Dr. Thiel,

Doc saw Dr. Che, the orthopedic, today at SF Clinic.  He was very happy with Doc's progress.  He was surprised when Doc walked in on his own. His X-rays look like his fractures are healing well. His multiple fractured ribs and collar bone look good.  I didn't know his shoulder blade was fractured, too. No wonder he was in so much pain! Fortunately, he doesn't need pain med any more.  He is still very weak and has no stamina.  The Dr. gave him something to improve his pathetic appetite.  Hope that works since he doesn't want to eat.  His brain injury will take a couple of months more to heal, but he is getting more clear.  I so appreciate your prayers!
Please continue to pray for Doc's recovery.
Doc has been handling baptismal counseling and has not been able to get to it the past month or so.
Also, please, as Jesus said, "pray the Lord of the harvest to send out laborers into His harvest" (Luke 10:2).
Suggested Sabbath Service
Here is a suggested  service for the weekly Sabbath:
Note: If you have a slow internet connection, you can watch these by starting the video, then below it (and towards the right) look for an outline of a gear–if you click on that, it will allow the YouTube video to be played with lower video quality, but at least it will not stop often–you can select a quality as low as 144p. If your internet connection is still too slow (as my home one is) and/or you prefer audio messages to audio-visuals ones, go to the YouTube link for the message, click on SHOW MORE related to the description. You will then see something that says, "Download MP3." Below that is a link to an MP3 file. Most computers (and even some cellular telephones) will allow MP3 files to be downloaded and played. This is an option we have made available (but we are also looking into ways to improve that as well)–and, of course, we have written article options. Some people have found that if their internet connections are not fast enough, that they can simply listen to the messages that are found at the Bible News Prophecy online radio channel.
IN CASE YOU DO NOT RECEIVE A 'LETTER TO THE BRETHREN' FOR ANY WEEK, REMEMBER THAT THERE ARE MANY SERMON MESSAGES ON THE ContinuingCOG channel AND MANY SERMONETTE MESSAGES ON THE Bible News Prophecy channel. There are also some messages at the CCOGAfrica channel. There are also messages in the Spanish language at the CDLIDDSermones channel.
World News Items
As the conflict between Russia and Ukraine continue, we see more and more concern about the impact on food production and costs (see Russia, Ukraine, and the 3rd Horseman of the Apocalypse). Ukraine is a major exporter of wheat, barley, and cooking oils, which are three of the four items associated with scarcity and food price inflation with the ride of the third horseman of the Apocalypse (Revelation 6:5-6). Our recommended sermonette for the week is related to that (watch Russia, Ukraine, Food, & the Ride of the 3rd Horseman of the Apocalypse). Furthermore, drought and other matters in the USA and elsewhere look to affect the food supply and food prices (see 'On Top Of Everything Else, Drought … Are you ready for more bad news about our food supply?').
Other fallout from the Russian incursion is more serious discussions about bypassing the USA dollar for international trade–this will harm the economy of the USA which has benefited greatly from its dollar's international position (see RT: Russia urges allies to dump dollar and euro in trade).
On other matters, Emmanuel Macron, one Europe's leading pro-EU army leaders, was re-elected as France's president (see France's Macron wins, Europe relieved, the USA does not understand what will happen). There were fears in the EU that the somewhat anti-EU Marine Le Pen could win, but although she did better than last time, she was defeated.
The European Union took another censoring and '666 step' related to the internet by adopting its 'Digital Services Act' (see IL: Censor The Internet Act: EU Agrees to Expand Online Censorship With 'Digital Services Act'). The USA also took a censorship type step (see WND: Biden DHS creates unit to police speech). Shadow-banning and censorship by Big Tech and various governments is getting us to look more towards radio and other means to do the work related to Matthew 24:14, Matthew 28:19-20, and Romans 11:25.
Also in Europe, Italy is putting together a type of 'voluntary social credit' score scheme. Others in the EU are looking to force Europeans to have a type of digital identity which is supposed to somehow help them (see Social Credit Scoring System Designed To Modify Behavior Launched In Italy'). Many in Europe are also encouraging having their hands microchipped in order to make purchases (see 'People are now paying with microchips in their hand'). We continue to see various steps that have totalitarian '666' potential in Europe.
According the White House, Iran may be weeks away of having enough nuclear materials to make a bomb (see I365: White House admits: Iran will have nukes in "a few weeks or less"). Presuming that is correct (it may not be, as the White House has stated this before) then we may be getting quite close to a regional conflict in the Middle East that could trigger the 'peace-deal' of Daniel 9:27 and the 3 1/2 year countdown to the start of the Great Tribulation.
Concluding Comments
In the Book of Romans, the Apostle Paul wrote:
28 And we know that all things work together for good to those who love God, to those who are the called according to His purpose. 29 For whom He foreknew, He also predestined to be conformed to the image of His Son, that He might be the firstborn among many brethren. 30 Moreover whom He predestined, these He also called; whom He called, these He also justified; and whom He justified, these He also glorified.

31 What then shall we say to these things? If God is for us, who can be against us? 32 He who did not spare His own Son, but delivered Him up for us all, how shall He not with Him also freely give us all things? 33 Who shall bring a charge against God's elect? It is God who justifies. 34 Who is he who condemns? It is Christ who died, and furthermore is also risen, who is even at the right hand of God, who also makes intercession for us. 35 Who shall separate us from the love of Christ? Shall tribulation, or distress, or persecution, or famine, or nakedness, or peril, or sword? 36 As it is written:

"For Your sake we are killed all day long;
We are accounted as sheep for the slaughter."

37 Yet in all these things we are more than conquerors through Him who loved us. 38 For I am persuaded that neither death nor life, nor angels nor principalities nor powers, nor things present nor things to come, 39 nor height nor depth, nor any other created thing, shall be able to separate us from the love of God which is in Christ Jesus our Lord. (Romans 8:28-39)
Yes, brethren, God loves us. The more we love Him (and others) the better all things will work together for our (and their) good.
Sincerely,
Bob Thiel
Pastor and Overseer