Dear Brethren and Co-Workers in Christ:
My prayer is that you are all doing well.
Things are generally fine, though busy, here in the Five Cities region of California.
Spring Holy Days
As mentioned last week, the Spring Holy Days are getting nearer.
Again, if any of you wish to volunteer to host Passover services at your home, please let me know so that we can announce locations that others may wish to visit.
Most hosts would play the CCOG Passover Service video.  Passover will be after sunset Thursday April 2, 2015.
Again, any who wish to contact me about hosting the The Night to Be Observed, which is the next night, and/or the first Day of Unleavened Bread, which is the next day (April 4), can also contact me via email: cogwriter@aol.com.
Because the last day of unleavened bread is on a Friday (April 10) in 2015, followed by a Sabbath (April 11), some may wish to host services for others that weekend.
Passover and Unleavened Bread Services
There are expected to be Passover and Unleavened Bread services in New Brunswick:
Gisele and I will be hosting Passover Services, Night to be Observed and First Day of Unleavened Bread services at our home in Harvey Station, NB.  …

Herb & Gisele Haddon
There are expected to be Passover and Unleavened Bread services in Wichita, Kansas.  Contact R.H. Brown, email rhbrown@live.com, for particulars.
There are expected to be Passover and Unleavened Bread services in Henderson, Nevada.  Contact S. Benjegerdes, email mikesheri@gmail.com, for particulars.
For services in Arroyo Grande, California, contact Bob Thiel, email cogwriter@aol.com, for details.
There are expected to be Passover and Unleavened Bread services in New Zealand.  Contact John Hickey, email john.h@vodafone.net.nz.
There are expected to be Passover and Unleavened Bread services in Kenya and Tanzania.  Email Pastor Evans Ochieng for details: evochieng74@gmail.com.
There are expected to be Passover and Unleavened Bread services in Silay City, Philippines. Contact Oscar Mediavilla via email hansmeidavilla@rocketmail.com.
Dholuo Magazine
As mentioned last week, we now have an edition of the BibleNewsProphecy magazine translated into the Dholuo language.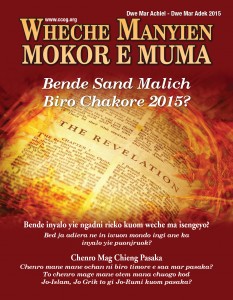 Dholuo is spoken by millions in Kenya, Tanzania, and Uganda.  It likely also would have been the native language of US President Barack Obama's father (he was a Luo Kenyan).  Many of our members in Africa speak Dholuo.
Here is a link to the first edition: Wheche Manyien Mokor E Muma.
Pastor Evans Ochieng was able to get it printed Nairobi in order to distribute them.
Speaking of literature, we also sent additional literature to New Zealand last Friday.
Congregations and Members in Kenya
Some have asked about our members in Kenya and where they are located.  Continuing Church of God Pastor Evans Ochieng sent me an email with the following:
Now these are the true congregations of CCOG in Kenya:

NYANZA PROVINCE
> NDHIWA-27 ADULTS, 12 CHILDREN——————–TOTAL 39 MEMBERS
> MBANI-18 ADULTS, 22 CHILDREN ———————TOTAL 40 MEMBERS
> ORIANG-20 ADULTS, 19 CHILDREN——————–TOTAL 39 MEMBERS
> KISEKE-15 ADULTS, 21 CHILDREN———————TOTAL36 MEMBERS
> RONGO 7 ADULTS, 8 CHILDREN————————TOTAL 15 MEMBERS
> OYUGIS 6 ADULTS, 10 CHILDREN———————-TOTAL 16 MEMBERS
> LOWER NYAKACH 3 ADULTS, 7 CHILDREN————TOTAL 10 MEMBERS
> UPPER  NYAKACH 13 ADULTS, 23 CHILDREN———-TOTAL 36 MEMBERS
> ACHUTH 9 ADULTS, 12  CHILDREN———————TOTAL 21 MEMBERS
> KIHANCHA 6 ADULTS 2  CHILDREN——————–TOTAL 8 MEMBERS
> MBITA 10 ADULTS 4  CHILDREN———————–TOTAL 14 MEMBERS
> SINDO 9 ADULTS, 5  CHILDREN————————TOTAL 14 MEMBERS
> AHERO 6 ADULTS, 10  CHILDREN———————-TOTAL 16 MEMBERS

KISII
> EBEREGE 63 ADULTS, 72CHILDREN—————–TOTAL 135.  The number has > increased
> KEORE 29 ADULTS, 15  CHILDREN——————–TOTAL 44 MEMBERS
> NYAMARUMA  I don't have the exact  number I will send it later

RIFT  VALLEY
> BOMET 35 ADULTS, 16 CHILDREN———————TOTAL 51  MEMBERS
> CILANI  35 ADULTS, 18 CHILDREN———————TOTAL 53  MEMBERS
> MOSONIK 20 ADULTS, 10 CHILDREN——————TOTAL 30  MEMBERS
> INGURO 25 ADULTS, 20 CHILDREN——————–TOTAL 45  MEMBERS
> MAU 20 ADULTS 30 CHILDREN————————TOTAL 50  MEMBERS

NAIROBI
> NAIROBI 6 ADULTS  children I don't have the number—TOTAL 6 MEMBERS

KITUI
> KITUI 20 ADULTS. children I don't  have the number—-TOTAL 20 MEMBERS

> TOTAL 724
The Continuing Church of God also has members in near-by Tanzania.
Most in Nyanza speak Dholuo, commonly called Luo.
In Kisii, they speak a language called Kisii, though more formally called Ekegusii. Ekegusii is another language we have been working on getting materials translated into.
Having more materials in African languages will greatly assist us in reaching people in Africa.
Canadian Registration
A couple in Canada set up an appointment to go over our past application and intended follow-up letter to Revenue Canada with a Canadian attorney to see how we can best proceed for official registration in Canada for the church. This also has required meeting with bank officials and preparing paperwork in California to assist the process.
The members in Canada would benefit if this registration is attained as it will allow tax-deductibility of contributions of tithes and offerings.
World News Events
Each week there are world events that align with biblical prophecy.
Last Sunday, a Vatican priest pointed to the 'trinity' and 'Mary' as commonalities with the Eastern Orthodox that he hopes can be the basis of ecumenical unity with his faith (see Vatican priest points to 'trinity' and Marianism as basis for unity with the Eastern Orthodox).  Much of the area of eastern Europe is at least nominally Eastern Orthodox. The Bible shows that Europe will have a type of religious unity for a time (cf. Revelation 13:4-8).
On Sunday, March 15, 2015, the nation of Hungary is to implement a new 'Sunday law,' requiring larger stores, etc. to be closed on Sunday (see Hungary to implement Sunday law).  Germany has a similar law already.  In  time, we expect to see more pro-Sunday and anti-Sabbath legislation in Europe.  The Bible tells of religious persecution coming from what will arise in Europe.
Speaking of that European power to arise, Jean-Claude Juncker, President of the European Commission, has declared that Europe needs to build its own army, partially because of the threat posed by Russia (see EU Commission President Juncker calls for a European army in the face of the threat from Russia).  The Bible teaches that warring power will emerge in Europe (Revelation 13:1-4).  The Bible shows that Europe will defeat the USA and its Anglo-Saxon descended allies (cf. Daniel 11:39) and later a power based in North Africa and the Middle East (Daniel 11:40-43), but ultimately it will face attack by a Russian-led force (Daniel 11:44; Jeremiah 50:41-43).
Over in the UK, banker Jacob Rothschild mentioned that he considers the world in its most dangerous place since the end of World War II.  Amongst other things, he wants Europe to restructure (see Jacob Rothschild: World most dangerous since WWII).  The Bible tells of restructures coming to Europe and they are not all good (cf. Revelation 17:12-18).
Yesterday, the United Nations reported about some of the devastation associated with the civil war in Syria (see UN report on Syrian war).  The Bible tells of a time when its capital Damascus (Isaiah 17:1) will be destroyed.  I have wondered if this may happen prior to the temporary 'peace' deal of Daniel 9:27.
Speaking of peace deals, a poll from Israel found that the bulk of the Jews do not believe that whoever wins next week's election there will get a peace deal (see Bulk of Israelis do not believe election will change prospects for peace in the Middle East).  A temporal peace will come in the Middle East, but the Bible shows it will not last (Daniel 9:27).  It may well take a regional war or other conflict to get enough sides to agree to a peace deal–even a multi-year, temporary, one.
In the USA, there was more violence again related to Ferguson (see Two police officers shot in Ferguson).  Violence is not the answer, God's kingdom is.
Suggested Sabbath Service
Here is our suggested format for Sabbath services this week:
Note: If you have a slow internet connection, you can watch these by starting the video, then below it (and towards the right) look for an outline of a gear–if you click on that, it will allow the YouTube video to be played with lower video quality, but at least it will not stop often–you can select a quality as low as 144p.
If your internet connection is still too slow (as my home one is) and/or you prefer audio messages to audio-visuals ones, go to the YouTube link for the message, click on SHOW MORE related to the description. You will then see something that says, "Download MP3." Below that is a link to an MP3 file. Most computers (and even some cellular telephones) will allow MP3 files to be downloaded and played. This is an option we have made available (but we are also looking into ways to improve that as well)–and, of course, we have written article options that we list each week.
Some people have found that if their internet connections are not fast enough, that they can simply listen to the messages that are found at the new Bible News Prophecy online radio channel.
IN CASE YOU DO NOT RECEIVE A 'LETTER TO THE BRETHREN' FOR ANY WEEK, REMEMBER THAT THERE ARE MANY SERMON MESSAGES ON THE ContinuingCOG channel AND MANY SERMONETTE MESSAGES ON THE Bible News Prophecy channel.
Concluding Comments
The Apostle Peter warned:
1 Beloved, I now write to you this second epistle (in both of which I stir up your pure minds by way of reminder), 2 that you may be mindful of the words which were spoken before by the holy prophets, and of the commandment of us, the apostles of the Lord and Savior, 3 knowing this first: that scoffers will come in the last days, walking according to their own lusts, 4 and saying, "Where is the promise of His coming? For since the fathers fell asleep, all things continue as they were from the beginning of creation." 5 For this they willfully forget: that by the word of God the heavens were of old, and the earth standing out of water and in the water, 6 by which the world that then existed perished, being flooded with water. 7 But the heavens and the earth which are now preserved by the same word, are reserved for fire until the day of judgment and perdition of ungodly men.

8 But, beloved, do not forget this one thing, that with the Lord one day is as a thousand years, and a thousand years as one day. 9 The Lord is not slack concerning His promise, as some count slackness, but is longsuffering toward us, not willing that any should perish but that all should come to repentance. (2 Peter 3:1-9)
Brethren, despite the tests and trials you have, do not believe the scoffers.  Jesus is going to return and the Bible can be trusted.
Sincerely,
Bob Thiel, Pastor and Overseer
Continuing Church of God