Dear Brethren and Co-Workers in Christ:
Overseas greetings.
Joyce and I are overseas again. We are planning to be at afternoon Sabbath services on May 25, 2019 in Takanini, New Zealand which is just south of Auckland.
If any out there wish to attend as well, please contact John Hickey, email johnhickey705@xtra.co.nz
Upcoming Annual Feasts
The next annual holy day is Pentecost and that will be from sunset June 8th through sunset June 9th this year.
The Fall holy days are the Feast of Trumpets (from sunset September 29th through sunset September 30th this year), Day of Atonement (from sunset October 8th through sunset October 9th this year), and the Feast of Tabernacles/Last Great Day (from sunset October 13th through sunset October 21st this year).
As far as the Feast of Tabernacles goes, as mentioned before, we have selected the The Westin St. Louis 811 Spruce Street, St. Louis, Missouri 63102 USA +1 314-621-2000 for our site in the USA.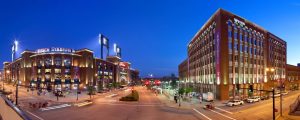 The hotel only has a limited number of rooms blocked off for us, so if you are planning on staying there, try to make your reservations soon.
Regarding guest rooms (rooms you may stay in), you may find the following helpful:
| | | | |
| --- | --- | --- | --- |
| Start Date | End Date | Room Type | Room Rate |
| 10/31/2019 | 10/21/2019 | Run of the house | $119.00 |

The Hotel's room rates are subject to applicable state and local taxes (currently 16.93%) in effect at the time of check out.

The group room rates listed above are net non-commissionable.

For the group rate call 800-Westin-1 and ask for a room in the St. Louis Westin and ask for the "Continuing Church of God" room block. Local number is 314.552.5806.

There is also a link to do this online: Book your group rate for Continuing Church of God
We are being offered a major discount on the rooms here and many of you may wish to stay here. My family has made reservations here already as have some others.
One other issue has to do with parking. If the hotel personnel valet park your car it is $30.00 per night plus tax and tip. Self-Parking for overnight guests is free. For those who attend the Feast site, but do not stay at the hotel, we have arranged to give all who tell us in advance of the Feast, free parking stickers. So, you will want to let us know you are coming once you know.
On 2/7/19, TripAdvisor listed 2,495 restaurants and 172 hotels in St. Louis (even if some are not available, there are many choices).
If you are planning on attending this year in St. Louis (and you do not have to stay at the Westin, although with the discount being offered many will), please send me an email. My email address is COGwriter@aol.com
Note: We expect to have three sites on the continent of North America: St. Louis, Montreal, and probably eastern Mexico.
For information on the St. Louis site and the other expected festival sites for 2019, you can also check out the page: Continuing Church of God Feast of Tabernacles' sites for 2019.
Site Not Secure?
In the last week or so, we have taken steps to reduce inaccurate information that internet browsers sometimes give that our websites are "not secure."
While in this world perhaps nothing is totally secure, our websites are considered "secure" as they have the appropriate certificates. So, we needed to change certain aspects of the coding to stop the "site not secure" messages that many browsers were giving.
We believe that we have fixed all of the issues we think sometimes caused that message.
There is plenty of censorship and bias already against scripturally-promoting websites, so we felt fixing this will assist some who are new to us or otherwise new to the internet.
Ghana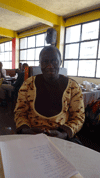 Samuel Ofosu Gyeabour, Overseer
Pastor Samuel reported that there are new coverts in Ghana. So, that is good news. He also reported that progress has been made in translating two of our booklets into one of the local languages there.
In other African news, evangelist Evans Ochieng asked for prayers for a meeting he plans for Friday related to how he should best organize to better be able to serve our African brethren in the numerous nations we have them.
World News Items
Some Catholics are pleased that more of the evangelical crowd is embracing aspects of Catholic liturgy (see Catholic praises evangelical acceptance of certain Catholic positions: But are they scriptural or consistent with original Christianity?). If, however, either group was actually interested in following the practices of early Christians, then their liturgical practices would have to change to be more like those of the Continuing Church of God. For details see the article: What was the Liturgy of the Early Church? and/or watch the video: What were early Christian church services like?
Over in Europe, Germany has decided to increase its military spending–to a great degree because of pressure from the USA (see Germany increasing military spending: A prelude to WWIII?). The USA will NOT like how this will end up (cf. Daniel 11:39). There are many consequences of taking actions without understanding the Bible or many of the prophecies contained within it (cf. Luke 21).
In France, migrants staged a protest and at least one claimed that France is not for the French (see "France does not belong to the French! Everyone has a right to be here!" France will violently change!). Violent conflict will happen in France and fully practicing Islam will one day not be tolerated.
Elsewhere in Europe are the Parliamentary elections which are pointing to a more divided Europe (see EU Parliament Elections: Is Real Change About to Come? and Juncker lashes out at 'stupid nationalists' on eve of European elections). However, Europe will one day reorganize and give its power to a dictator called the Beast (Revelation 17:12-13)
Australia looks like it re-elected Scott Morrison as Prime Minister (see Scott Morrison claims victory in Australia election). He recently said that his opposition did not recognize the extant of the threat that China posed. However, I do not believe he called for the type of repentance needed to prevent what will ultimately happen to Australia (cf. Jeremiah 30:7).
In Israel, a 'fringe' rabbi believes an earthquake last week is a Messianic sign, yet he and others have missed many biblical signs about Jesus being the Messiah (see Rabbi: Earthquake in Israel is Birthpang of Messiah; Jesus' return 2026-2031?). As far as when Jesus will return, early Christians believed in a 6,000/7,000 year plan. If the 6,000 years ends 2,000 years after Jesus began His ministry, His return would be 2026 or 2027. Presuming 'the last days' began no later than Pentecost 30/31 A.D. (cf. Acts 2:1,17), Jesus' return would be 2030 or 2031. In Matthew 24, Mark 13, and Luke 21, Jesus said to look for various signs, instead of being focused on date calculations. Thus, all who expected His return by now based upon calculations were in error. But as many of the signs that Jesus pointed to are in progress, it is obvious that we are getting closer to His return. And because certain events have not happened, 2026 seems not possible. But we are getting closer (Romans 13:11).
Suggested Sabbath Service
Here is a suggested Sabbath service for this week for our scattered brethren:
2-3 hymns (our songbook, The Bible Hymnal, contains the materials from the 1974 Bible Hymnal from the old WCG with new covers, plus ten additional hymns; there is also some Choral Accompaniment online).
Opening prayer.
Sermonette, which for most who receive this letter via email will be a recorded one. The one suggested for this week is: Will Pollution lead to the End? Other sermonettes are also available at the BibleNewsProphecy channel.
Announcements (if any; though for many it will be this letter) and one hymn.
Sermon, which for most who receive this letter via email will be a recorded one. The one suggested for this week is: Unitarianism? How is God One? Other sermons are also available at the ContinuingCOG channel.
Final hymn.
Closing prayer.
Note: If you have a slow internet connection, you can watch these by starting the video, then below it (and towards the right) look for an outline of a gear–if you click on that, it will allow the YouTube video to be played with lower video quality, but at least it will not stop often–you can select a quality as low as 144p. If your internet connection is still too slow and/or you prefer audio messages to audio-visuals ones, go to the YouTube link for the message, click on SHOW MORE related to the description. You will then see something that says, "Download MP3." Below that is a link to an MP3 file. Most computers (and even some cellular telephones) will allow MP3 files to be downloaded and played. This is an option we have made available (but we are also looking into ways to improve that as well)–and, of course, we have written article options. Some people have found that if their internet connections are not fast enough, that they can simply listen to the messages that are found at the Bible News Prophecy online radio channel.
IN CASE YOU DO NOT RECEIVE A 'LETTER TO THE BRETHREN' FOR ANY WEEK, REMEMBER THAT THERE ARE MANY SERMON MESSAGES ON THE ContinuingCOG channel AND MANY SERMONETTE MESSAGES ON THE Bible News Prophecy channel. There are also some messages at the CCOGAfrica channel.
Concluding Comments
The Apostle Paul told the Christians in Ephesus:
25 "And indeed, now I know that you all, among whom I have gone preaching the kingdom of God, will see my face no more. 26 Therefore I testify to you this day that I am innocent of the blood of all men. 27 For I have not shunned to declare to you the whole counsel of God. 28 Therefore take heed to yourselves and to all the flock, among which the Holy Spirit has made you overseers, to shepherd the church of God which He purchased with His own blood. 29 For I know this, that after my departure savage wolves will come in among you, not sparing the flock. 30 Also from among yourselves men will rise up, speaking perverse things, to draw away the disciples after themselves. 31 Therefore watch, and remember that for three years I did not cease to warn everyone night and day with tears.

32 "So now, brethren, I commend you to God and to the word of His grace, which is able to build you up and give you an inheritance among all those who are sanctified. 33 I have coveted no one's silver or gold or apparel. 34 Yes, you yourselves know that these hands have provided for my necessities, and for those who were with me. 35 I have shown you in every way, by laboring like this, that you must support the weak. And remember the words of the Lord Jesus, that He said, 'It is more blessed to give than to receive.'" (Acts 20:25-35)
Brethren, thank you for your continued support of the work as we strive to proclaim the Gospel of the Kingdom of God to the world as a witness in multiple languages (Matthew 24:14). And, as most of you realize, this is done without coveting your "silver or gold or apparel" (neither my wife nor I take a salary from the Continuing Church of God).
Despite this, many naysayers are "speaking perverse things" against us that are not true. The "savage wolves" will fail, "but the word of the Lord endures forever" (1 Peter 1:25).
Brethren, remember that the Apostle Paul stated that despite Satanically-influenced opposition, God "is able to build you up and give you an inheritance among all those who are sanctified" (Acts 20:32).
Sincerely,
Bob Thiel
Pastor and Overseer