Dear Brethren and Co-Workers in Christ:
Greetings from Grover Beach, California.
With Pentecost past, it is time for us to get serious about planning for the Feast of Tabernacles.
Feast of Tabernacles 2021: Pigeon Forge Tennessee, Puerto Rico, Canada, and Mozambique

For 2021, services are to begin the evening of September 20th and continue until the Last Great Day which is September 28th.
As mentioned a couple of weeks ago, for the continental USA we now have a contract to hold the Feast of Tabernacles at the Hilton Garden Inn Pigeon Forge, 2481 Teaster Ln, Pigeon Forge, TN 37863.

Hilton Garden Inn, Pigeon Forge, Tennessee
This is where we are intending to have daily services. This is also where my family intends to spend at least the bulk of the Feast of Tabernacles this year.
You do NOT need to stay at this hotel to attend the Feast of Tabernacles.
However, many will find that convenient.
Here is a booking link which should save you money if you wish to stay at the Hilton Garden Inn: https://www.hilton.com/en/book/reservation/deeplink/?&ctyhocn=PGFGIGI&groupCode=CCO&arrival=20210919&departure=20210929&cid=OM,WW,HILTONLINK,en,DirectLink&fromId=HILTONLINKDIRECT
If you prefer not using the internet to book, you are welcome to begin calling to make reservations (865-366-5250). You will need to mention the group code "CCO" to receive the discounted rates.
Those who wish to stay there can make reservations now if you wish.
Please send me an email if you plan to attend the CCOG Feast of Tabernacles in Pigeon Forge, Tennessee–you do NOT need to stay at the Hilton Garden Inn to send that email.  So, please send me an email if you intend to attend. My email address remains COGwriter@aol.com
There is a chance that we may have more people who will want to attend than we will have space for. So, to be sure that we will have room for you and yours, please let me know soon.
We are also in the process of working on a Spanish-language site in Puerto Rico. Carlos Aponte has been looking at place in the Suarez/Vieques area close to a beach. It is basically a 35 minute drive from the Luis Muñoz Marín International Airport of San Juan. This will mainly be a Spanish-language site. For more information, contact Carlos Aponte. His email is carlosaponte2007@hotmail.com
Though I do not speak much Spanish, Joyce, David, and I hope to attend the last couple of days here. However, because there currently is a COVID PCR test requirement for Puerto Rico, and we are unsure if we will be able to get the proper test in time while we are in Pigeon Forge, we are not sure if we will be able to do that–please pray that God will open a way if it is His will.
In Canada, the site looks like it will be either in New London, Ontario or somewhere in New Brunswick.
We expect to have a site in Mozambique with some English. The Feast will most likely be held in Milange, Mozambique, this is very near Milanje, Malawi. It is currently planned that Terry Nelson and his sons may go there (they are currently looking into the details). If so, the sermons would be translated from English (Terry Nelson's language) to Chichewa, which is the native language of most of those expected to attend. We expect to supply a couple of hundred Bibles in the Chichewa language by or during the Feast of Tabernacles this year.
Of course, we have other sites planned around the world.
The following link is updated regularly as we get more information about these and are other sites: Feast of Tabernacles' Sites for 2021.
Prayer Request
Joanna Kersten sent the following prayer request for her father, Johan Kersten, who is a CCOG member in the Netherlands:
Hi Mr Thiel

I just heard from my dad and he has been taken to hospital in Holland.

Dad has been very tired the last week and was worried he had Covid

He took a test on Monday and it was negative so thankfully he was able to realise the exhaustion an higher heart rate was not usual.

I just got a message and was able to call him

He said the heart started beating out of Rythem and got out of "hand" so he called the doctor and they got an ambulance out who has taken him to hospital and he has been admitted for further tests.

Of course I am worried, just more so he is alone and I am unable to get on a flight out of Australia right now

Kind regards

Joanna
Johan, who lives in the Netherlands, is in my prayers, and now, hopefully will be in yours as well.
My wife and I first met the Kerstens at the Feast of Tabernacles in New Zealand in 2013. We also saw them at the Feast of Tabernacles in later years in the Netherlands and Serbia. Joanna Kersten lives in Australia.
Giribe Congregation
Evangelist Evans Ochieng sent the following photo and report related to his visit to the Giribe, Kenya congregation: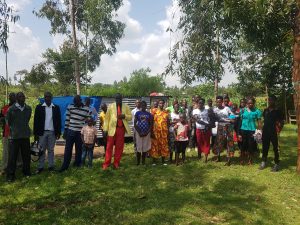 Pastor Dr Bob,

Greetings from Kenya.

I kept Sabbath with  Giribe congregations yesterday. The meeting was very  productive.  The number in Giribe congregation has increased highly up to 63. The adults are 35 and youths and children are 28. Their hall is now small and they need a big hall. Meaning we have to expand their hall so that they can have enough space. I talked with them to make bricks because they have a good soil that can make good bricks so that we can see how to assist them in order to have a permanent hall that can help them. The growth was good.

Let's pray for the work in CCOG.

Evans.
It is great that we have been having such growth there.
Suggested Sabbath Day Services
Here is a suggested Sabbath day service for our scattered brethren and other interested people:
Note: If you have a slow internet connection, you can watch these by starting the video, then below it (and towards the right) look for an outline of a gear–if you click on that, it will allow the YouTube video to be played with lower video quality, but at least it will not stop often–you can select a quality as low as 144p. If your internet connection is still too slow (as my home one is) and/or you prefer audio messages to audio-visuals ones, go to the YouTube link for the message, click on SHOW MORE related to the description. You will then see something that says, "Download MP3." Below that is a link to an MP3 file. Most computers (and even some cellular telephones) will allow MP3 files to be downloaded and played. This is an option we have made available (but we are also looking into ways to improve that as well)–and, of course, we have written article options. Some people have found that if their internet connections are not fast enough, that they can simply listen to the messages that are found at the Bible News Prophecy online radio channel.
IN CASE YOU DO NOT RECEIVE A 'LETTER TO THE BRETHREN' FOR ANY WEEK, REMEMBER THAT THERE ARE MANY SERMON MESSAGES ON THE ContinuingCOG channel AND MANY SERMONETTE MESSAGES ON THE Bible News Prophecy channel. There are also some messages at the CCOGAfrica channel. There are also messages in the Spanish language at the CDLIDDSermones channel.
World News Items
Ran across an article titled 'One thing currently crushing the United States of America'. According to that author, it was fear. Fear will also be a factor in the rise of the European Beast power. As a reminder, we put together a sermon about fear shortly after various COVID pandemic issues became prominent; here is a link to that sermon: Ten Plus Steps to Rid Yourself of Fear.
Speaking of fear, more and more secular source are publicly warning about inflation (see 'Inflation & Implosion – Hyperinflation in 2022 – John Williams') and a future collapse of the dollar of the USA (see Dollar is Going to Collapse – Peter Schiff). This is not an unfounded fear as both will happen. However, as Christians we know we are not supposed to be focused on money as the world is. But we are getting closer to the end of the world as we have known it.
Over in the Middle East, a 'ceasefire' is in place between Israel and Hamas (see Israel-Hamas enter cease-fire deal, but great damage will later come to Jerusalem), yet animosity remains. It was reported that earlier this month that it looks like Israel sabotaged a military drone factory in Iran (see I365: Did Israel just sabotage an Iranian drone factory?). As far as sabotage goes, Israel seems to have done more of that to Iran than the other way around. Presuming reports of that over the years have been correct, Iran must be wondering how to stop that. While Israel can damage Iran, yet Iran also has the ability to harm the nation of Israel. And biblical prophecy suggests that will happen (cf. Isaiah 22:6-9).
Concluding Comments
The Apostle Paul was inspired to write:
1 If then you were raised with Christ, seek those things which are above, where Christ is, sitting at the right hand of God. 2 Set your mind on things above, not on things on the earth. 3 For you died, and your life is hidden with Christ in God. 4 When Christ who is our life appears, then you also will appear with Him in glory. (Colossians 3:14)
Yes, we can appear with Jesus in glory. So, then what did the Apostle Paul write that we were to do? Continuing in Colossians:
5 Therefore put to death your members which are on the earth: fornication, uncleanness, passion, evil desire, and covetousness, which is idolatry. 6 Because of these things the wrath of God is coming upon the sons of disobedience, 7 in which you yourselves once walked when you lived in them.

8 But now you yourselves are to put off all these: anger, wrath, malice, blasphemy, filthy language out of your mouth. 9 Do not lie to one another, since you have put off the old man with his deeds, 10 and have put on the new man who is renewed in knowledge according to the image of Him who created him, 11 where there is neither Greek nor Jew, circumcised nor uncircumcised, barbarian, Scythian, slave nor free, but Christ is all and in all.

12 Therefore, as the elect of God, holy and beloved, put on tender mercies, kindness, humility, meekness, longsuffering; 13 bearing with one another, and forgiving one another, if anyone has a complaint against another; even as Christ forgave you, so you also must do. 14 But above all these things put on love, which is the bond of perfection. 15 And let the peace of God rule in your hearts, to which also you were called in one body; and be thankful. 16 Let the word of Christ dwell in you richly in all wisdom, teaching and admonishing one another in psalms and hymns and spiritual songs, singing with grace in your hearts to the Lord. 17 And whatever you do in word or deed, do all in the name of the Lord Jesus, giving thanks to God the Father through Him. (Colossians 3:5-17)
Brethren, we all need to do the above–and probably much better than we do.
Sincerely,
Bob Thiel
Pastor and Overseer