Dear Brethren and Co-Workers in Christ:
Greetings again from Five Cities, California.
We have been working on a lot of literature, animation, and other matters.
Malawi, Mozambique, and Zambia
Evangelist Evans Ochieng sent in the following report:
Pastor Dr Bob,

My trip in both Malawi was better than how I was expecting it to be.

I visited 5 congratulations in Malawi -namely -Migowi, Ngunda, Funuzi, paloni and Namangale. The Faith that I found in Malawi was smart. Mostly to brethren in Funuzi and Paloni. In Paloni, the Continuing Church of God is the first church to teach and keep Sabbath in that location. They have been in a big problem from those who keep Sunday who judge them as rebels. Throughout such difficulties and greater disasters they got because of serious flood, they still keep their Faith strong enough and continue to be honest before God.

FLOOD

The flood affected the people living in Paloni that their homes were destroyed and all people migrated to various locations. Their farms were flooded. They remained with nothing. And on top of these sufferings, they still keep their Faith strong. These brethren need more support.

MOZAMBIQUE

It was a difficult day when I made my trip to Mozambique.  Even though the brethren in Mozambique prepared for me many trips and meetings in that country, I couldn't manage to enter into that land. I found it difficult not like previous days when I was entering without any problem. This time the guard at the border of Malawi and Mozambique denied to release permit. They claim that some people from Tanzania cause problems in Mozambique and they were pretending to be Christians. I hope it was just the work of Satan to stop every work that was to be done in Mozambique. We were forced to go back to Malawi on the same day. There is a plan of going back to Mozambique before the feast of Tabernacles 2018. It was very painful to our brethren in Mozambique according to the plans that failed on that day. So it will force me to squeeze my time before the Feast of Tabernacles 2018 to go and finish the work there. It was painful to our brethren in Mozambique when the guard stopped us not to enter in Mozambique. It was the work of Satan to stop every work that was to be done in Mozambique.

ZAMBIA

I was happy to meet our representative in Zambia who shared his good plans for the work in Zambia with me. Justin Gonakumoto has started translation of continuing church of God books and magazines into two languages, chechewa and Bemba. Zambians are speaking three languages mostly. Chechewa,English and Bemba. It will help the people from southern part and western part of Zambia to learn more about the truth.

He is also in a process of register the church in Malawi. So many have learnedthe truth from him that he has extended his programmes to Democratic republic of Congo.

We came to agreement that I will visit Zambia before feast of Tabernacles 2018.

LEADERS MEETING

The leaders meeting added a lot in God's work. I noticed that meeting will promote the gospel in Malawi and Mozambique. We plan to have another conference of leaders.

ASSISTANCE

Thank you very much for the great support you have been sending to our brethren in Malawi and Mozambique.

It has shown a real love in the midst of the brethren and has promote the gospel in Malawi and Mozambique. May God bless you highly and the brethren who have contributed.

Evans
It was disappointing that Evangelist Ochieng was unable to go to Mozambique.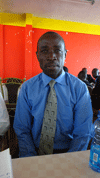 Wedson Matiya
After getting his email, I wrote back and mentioned to Evangelist Ochieng that I had been praying for our leader there, Wedson Matiya, as he had serious health issues. He sent me the following email:
I was with Matiya in the leader's meeting and your prayers are answered. Matiya is doing well. He was healed. We thank God for quick healing.

In the meeting were 8 men from Mozambique.

Evans
It feels great when prayers are answered so directly.
Please pray for our brethren in Mozambique and around the world.
Last week, Evangelist Evans mentioned the lack of bedding for some he visited (see Letter to the Brethren: April 26, 2018). Last night, Radson Mulozowa sent the following photo of mattresses that were purchased and given to some there: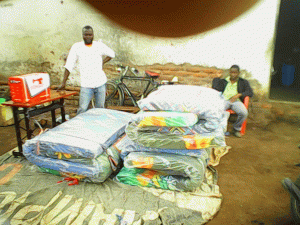 Many of our brethren are quite poor and things like bedding really help them.
Booklets and New Booklet Page

As mentioned before, we are currently expecting to release at least four new booklets this year, with the dating booklet the first.
As far as the dating booklet goes, while it is basically done, I sent a version to Evangelist Ochieng, since he feels that this is something definitely needed in Africa. However, I asked him to read it to see if 1) we should have a separate African version for cultural reasons or 2) if we should keep it as is or 3) if we should make some minor modifications and keep the rest as is.
Since he had to travel to Malawi, etc. he has not been able to get that done yet.
On other literature matters, we changed the link on the CCOG literature booklet tab to show all of our English language booklets in a different format. This is the type of format I always wanted to have. Now, with the recent addition of James Estoque to my company's office staff (he was mentioned in the Letter to the Brethren: March 1, 2018), he was able to do what I wanted done with that.
Here is the link: https://www.ccog.org/books/
Now, if you go there, you may notice that there are several booklets that we have not mailed out. This is because they are still in the editing and modification stage. The reason that they are up there as available is that they are mentioned in current or future animations that we expect to put up soon.
Anyway, once the booklets are more finalized, we plan to send copies to our various English language suppporters.
World News Items
The situation with Israel, Iran, Syria, and the USA seems to be heating up (see Iran, Israel, and the USA: Military conflict is looming). All of them could be hurt from ideas they have proposed.
In Europe, the EU launched its seventh Galileo-related satellite. Plus the EU is dropping hints to the UK that it will not allow it to gain certain benefits related to its Galileo 'GPS' system (see BBC: EU launches 7th satellite & UK being pushed out of Galileo because of Brexit). Galileo is something I have long written that the Europeans could use against both the UK and USA. News reports are, in my view, consistent with that.
On other matters, we continue to governments opposed to the Bible. In the USA, we have had at least two prominent politicians say that religions must evolve/change to accept various forms of immorality (see California AB 2943 has the potential to ban Bibles and Congressman says religion must evolve).
Those who thought such things could not happen in America are, sadly, mistaken. This week's suggested sermonette deals with some of this: Banning the Bible?
Suggested Sabbath Service
Here is a suggested Sabbath service for this week:
2-3 hymns (our songbook, The Bible Hymnal, contains the materials from the 1974 Bible Hymnal from the old WCG with new covers, plus ten additional hymns; there is also some Choral Accompaniment online).
Opening prayer.
Sermonette, which for most who receive this letter via email will be a recorded one. The one suggested for this week is: Banning the Bible? Other sermonettes are available at the Bible News Prophecy channel.
Announcements (if any; though for many it will be this letter) and one hymn.
Sermon, which for most who receive this letter via email will be a recorded one. The one suggested for this week is: Proverbs 26-28: Giving Answers, Making Right Decisions. Other sermons are also available at the ContinuingCOG channel.
Final hymn.
Closing prayer.
Note: If you have a slow internet connection, you can watch these by starting the video, then below it (and towards the right) look for an outline of a gear–if you click on that, it will allow the YouTube video to be played with lower video quality, but at least it will not stop often–you can select a quality as low as 144p. If your internet connection is still too slow (as my home one is) and/or you prefer audio messages to audio-visuals ones, go to the YouTube link for the message, click on SHOW MORE related to the description. You will then see something that says, "Download MP3." Below that is a link to an MP3 file. Most computers (and even some cellular telephones) will allow MP3 files to be downloaded and played. This is an option we have made available (but we are also looking into ways to improve that as well)–and, of course, we have written article options. Some people have found that if their internet connections are not fast enough, that they can simply listen to the messages that are found at the Bible News Prophecy online radio channel.
IN CASE YOU DO NOT RECEIVE A 'LETTER TO THE BRETHREN' FOR ANY WEEK, REMEMBER THAT THERE ARE MANY SERMON MESSAGES ON THE ContinuingCOG channel AND MANY SERMONETTE MESSAGES ON THE Bible News Prophecy channel. There are also some messages at the CCOGAfrica channel.
Concluding Comments

The Book of Daniel has the following statement:
4 "But you, Daniel, shut up the words, and seal the book until the time of the end; many shall run to and fro, and knowledge shall increase." (Daniel 12:4)
When Daniel was told this, they did not have steam, petroleum, nuclear, or electrical engines to decrease travel times.
We do now.
When Daniel was told this, they did not have computers, cellular telephones, or the internet.
We do now.
When Daniel was told this, there was no international power known as the United States of America (cf. Daniel 11:39).
There is now.
When Daniel was told this, there was no power in Europe like the European Union, which had unity problems (cf. Daniel 2:41-43).
There is now.
There were also no people known as Christians.
There are now.
We are in time where we understand more and more of the prophecies that were sealed in the Book of Daniel.
Including the coming destruction of the USA (Daniel 11:39), its Anglo-Saxon descended allies (Daniel 8:24-25, and a coming persecution of Christians (Daniel 11:28-35).
People are running to and fro, knowledge has been increasing, and we do understand more of the Book of Daniel. We are getting closer to the end of this age.
In this age when the love of many waxes cold, endure to the end (Matthew 24:13).
Sincerely,
Bob Thiel
Pastor and Overseer