Dear Brethren and Co-Workers in Christ:
Greetings from Grover Beach, California.
More on the Gospel of the Kingdom of God Translations
We continue to receive additional translations of our English language booklet, The Gospel of the Kingdom of God. On Monday, we received another 32 translations. We continue to take steps to aid in the fulfillment of Matthew 24:14, Romans 9:28, Romans 11:25, and Revelation 7:9.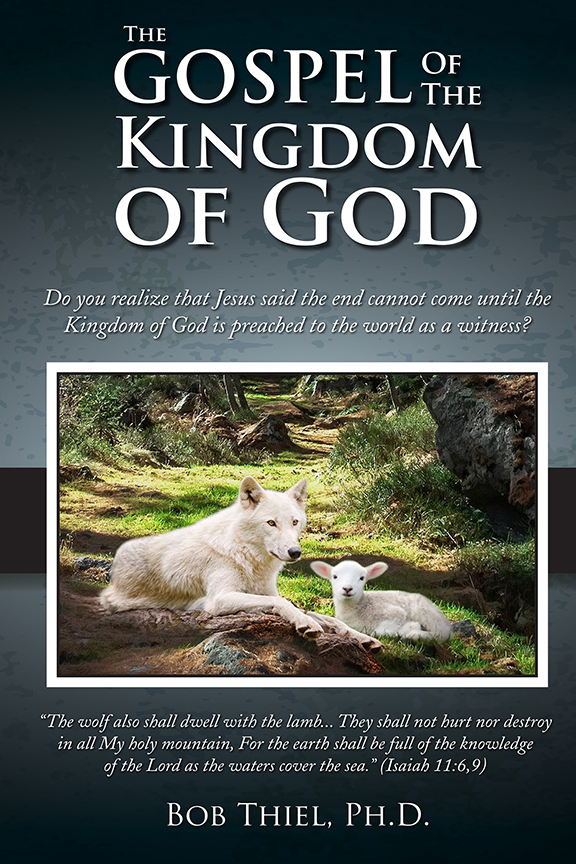 An anti-Church of God website, with no basis in fact, falsely posted that what we are receiving are Artificial Intelligence (AI) translations of our The Gospel of the Kingdom of God booklet.
That is not the case.
Additionally, I again asked the translation leader about how the translations are done, and here is what she sent me on Tuesday:
Dear Sir,

How are you? I hope you are doing well.

First of all, I am sorry to write a reply to your last email. I was busy with certain other projects.

Secondly, I already have mentioned, that we are connected through a large network of translators, proofreaders, teachers, preachers, Pastors and publishers around the world.

When you asked me to start translating "The Gospel of the Kingdom of God" into as many languages as possible, I immediately communicated with the network and we started working on it for as many languages as we could.

Thirdly, we got each and every work proofread through human efforts and whenever we got negative comments, we rejected that specific file and didn't send you. So, be assured that these are purely human translations.

Fourthly, we have received hundreds of translations already that we haven't yet sent you because Brother David Lewis works on these files, arranges them, converts them into PDF and then sends them to you. …

In Christ,

Linda Jane.
Anyway, it looks like we will receive hundreds more translations of our booklet in the future, so that means we may have over 1,000 different languages/dialects by the end of this calendar year. Perhaps one day 2,000 or more!
Getting as many translations as we have has never been done in the history of the Church of God. This is part of our preparation for the short work of Romans 9:28 (see also Preparing for the 'Short Work' and The Famine of the Word).
We are working to witness to people in many languages, consistent with Jesus' admonition and prophecy in Matthew 24:14.
And while computer software, including AI, can assist in various ways, currently we have not used AI for these translations and have no plans to do so.
Bible News Prophecy International Radio
Speaking of languages, as mentioned last week, we just started broadcasting on our new Bible News Prophecy International  multi-language internet radio channel in the Spanish language.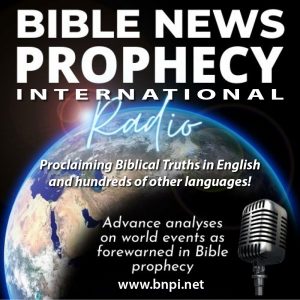 Shirley Gestro reported yesterday:
I checked the stats earlier today, we've had about 18 listeners.
Kristy Gorman responded with:
Well you have to start somewhere. We are on our way.
My response to Kristy Gorman was:
Jesus said that the Kingdom of God was like a mustard seed that was very tiny, but then grew large.
Here is what Mark recorded that Jesus said in the Parable of the Mustard Seed:
30 … "To what shall we liken the kingdom of God? Or with what parable shall we picture it? 31 It is like a mustard seed which, when it is sown on the ground, is smaller than all the seeds on earth; 32 but when it is sown, it grows up and becomes greater than all herbs, and shoots out large branches, so that the birds of the air may nest under its shade." (Mark 4:30-32)
Jesus' parable suggests that, at first, the kingdom of God is quite small.
This is somewhat confirmed by the verses of another parable that follows in Luke's account of this parable (see Luke 13:18-21).
That said, this online station is new and only broadcasting in Spanish now. But it has begun.
Some are starting to listen to it, and in time we expect additional growth–remember that Jesus also said that "this gospel of the kingdom will be preached in all the world as a witness to all the nations, and then the end will come" (Matthew 24:14)–we are getting closer to that fulfillment as we strive to reach people in multiple languages.
Regarding our English Bible News Prophecy online radio station, its growing reach was included in the following sermon:
A lot has been going on related to the use of radio in the Continuing Church of God. This message discusses the use of radio to reach the world. It features presenters from North America, the South Pacific, and Africa. Steve Dupuie and Dr. Thiel also mention the commercial networks that the Continuing Church of God is using as well as two shortwave platforms and online radio. Censorship issues are also discussed.
Here is a link to the short sermon: Behind the Work 2023: Using Radio.
Suggested Sabbath Day Services
Here is a suggested Sabbath day service for our scattered brethren and other interested people:
Note: If you have a slow internet connection, you can watch these by starting the video, then below it (and towards the right) look for an outline of a gear–if you click on that, it will allow the YouTube video to be played with lower video quality, but at least it will not stop often–you can select a quality as low as 144p. If your internet connection is still too slow (as my home one is) and/or you prefer audio messages to audio-visuals ones, go to the YouTube link for the message, click on SHOW MORE related to the description. You will then see something that says, "Download MP3." Below that is a link to an MP3 file. Most computers (and even some cellular telephones) will allow MP3 files to be downloaded and played. This is an option we have made available (but we are also looking into ways to improve that as well)–and, of course, we have written article options. Some people have found that if their internet connections are not fast enough, that they can simply listen to the messages that are found at the Bible News Prophecy online radio channel.
IN CASE YOU DO NOT RECEIVE A 'LETTER TO THE BRETHREN' FOR ANY WEEK, REMEMBER THAT THERE ARE MANY SERMON MESSAGES ON THE ContinuingCOG channel AND MANY SERMONETTE MESSAGES ON THE Bible News Prophecy channel. There are also some messages at the CCOGAfrica channel. There are also messages in the Spanish language at the CDLIDDSermones channel.
World News Items
Jesus warned that there would be wars and earthquakes during the end times:
3 Now as He sat on the Mount of Olives opposite the temple, Peter, James, John, and Andrew asked Him privately, 4 "Tell us, when will these things be? And what will be the sign when all these things will be fulfilled?"

5 And Jesus, answering them, began to say: "Take heed that no one deceives you. 6 For many will come in My name, saying, 'I am He,' and will deceive many. 7 But when you hear of wars and rumors of wars, do not be troubled; for such things must happen, but the end is not yet. 8 For nation will rise against nation, and kingdom against kingdom. And there will be earthquakes in various places, and there will be famines and troubles. These are the beginnings of sorrows. (Mark 13:3-8)
Well, in the past 6 weeks, Iceland reportedly has had over 20,000 earthquakes (see Iceland has 1500 earthquakes in 2 days–20,000 since October–and has concerns about a major volcanic eruption). There are concerns that the risk of significant volcanic explosion is "high" there–and that would be consistent with the "troubles" Jesus also warned about for the end times.
Regarding various wars, Protestant writers continue to post their views about where the Hamas-Israel war will lead. The famous evangelical preachers Hal Lindsey and Greg Laurie have tried to tie this in with the battle Gog and Magog in Ezekiel 38 (see Hal Lindsey: Planet Earth Is Armed To The Teeth… And The Word Of The Day Is 'Escalation' 'Ezekiel 38'?). That is in error as that fulfillment is over 1000 years away (see also Ezekiel 38: For Russia & Iran in Our Day?).
Another Protestant writer posted that the current conflict may lead to the temporary peace deal of Daniel 9:27 (see HD: Will This Time Of War In Israel Pave The Way For A Time Of Counterfeit Peace?). While I believe it ultimately will, I strongly suspect that we will need to see a major escalation beyond Israel and Hamas in order to get that deal actually accepted.
Over in Canada, a female powerlifter was suspended for two years after she complained that a male who competed in that sport (and supposedly set a female weightlifting record) was not a woman (see 'Female Powerlifter Faces 2-Year Ban After Calling Trans Rival a 'Male', Slamming Unfair Advantage').
On a somewhat related note, notice something that happened in the USA:
Two longtime members and supporters of a University of Wyoming sorority, including one who is a past national foundation president of Kappa Kappa Gamma, have been expelled from the group because they opposed the membership of a 260-pound male who insists on living with sorority girls at the Laramie, Wyoming, campus.

It's the latest dustup in the war that was created when a man known now as Artemis Langford decided to call himself a woman and applied to join, a move that the national sorority approved. 11/14/23 https://www.wnd.com/2023/11/sorority-gals-banished-objecting-membership-260-pound-male/
Truly we are seeing that "last days" sign of "evil men and impostors" who "grow worse and worse, deceiving and being deceived" (2 Timothy 3:1, 13) as the Apostle Paul warned.
Men pretending that they are women are functioning as imposters.
On other matters, there was a new report that some scientists believe that they have found Noah's Ark in Turkey (see Scientists announce site of Noah's Ark?). While that is possible, many scientists do not agree. Yet, if Noah's Ark truly is accepted by most as found, I suspect that will aid in the interfaith religion that the United Nations and the Vatican have been pushing, as opposed to getting unbelievers to convert to true Christianity.
Concluding Comments
The prophet Micah was inspired to write the following:
2 Hear, all you peoples!
Listen, O earth, and all that is in it!
Let the Lord God be a witness against you,
The Lord from His holy temple.

3 For behold, the Lord is coming out of His place;
He will come down
And tread on the high places of the earth.
4 The mountains will melt under Him,
And the valleys will split
Like wax before the fire,
Like waters poured down a steep place. (Micah 1:2-4)
Yes, Jesus will return.
That is a fact that you should find comfort in (1 Thessalonian 4:16-18), so do not be discouraged nor give up.
Sincerely,
Bob Thiel
Pastor and Overseer