Dear Brethren and Co-Workers in Christ:
Greetings from the Five Cities region of California.
As always, much is going on around the world.
Mystery of God's Plan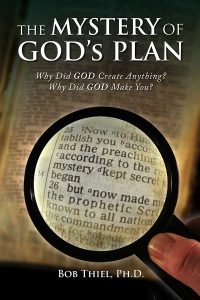 Last Sabbath, I started a short sermon series related to the book: The MYSTERY of GOD's PLAN Why Did God Create Anything? Why did God make you? 
The book is in a draft form, and while a version can be read online, it is likely not going to be finalized for another month or so.
That being said, this book restores and helps explain aspects of God's plan that many, including those in various Church of God groups, do not understand or teach.
Having the book and the sermons should help us better grasp God's plan and motivate us to live as better Christians.
Possible New Congregations
For the past couple of months, I have been receiving inquiries from a group that identified itself as the "Nyabioto independent church of God." Nyabioto is about 20 km/13 miles west of Kisii in Kenya. My contact in the Nyabioto group, Isaac Ondara sent the following photograph: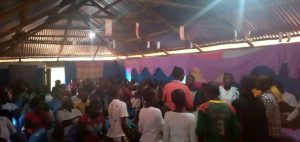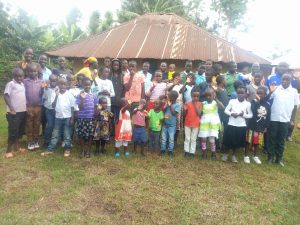 Evangelist Evans Ochieng sent Ezekiel Oanda to visit them on behalf of the CCOG last Sabbath. Isaac Ondara said the visit went well. This group has been studying our literature for about two years. They had a Seventh-day Adventist background prior to becoming COG–and the SDAs have a major presence in that area. Evangelist Ochieng plans to visit them this Sabbath.
Over in Malawi, another group has contacted us. Deacon Radson Mulozowa was able to meet with their leader. Here is what the leader from the other group sent me today:
Dear pastor Bob,

We had good time with deacon Radson, he did his best to welcome my family and all my churches to ccog, Am very happy with all the teachings,we have agreed of working together to promote the kingdom of God with the whole truth,please we need more teachings and that we want to learn a lot from you my dear man of God, lastly we need your prayers.

Richard Solomon Phiri
Please keep those in Malawi and the rest of Africa in your prayers.
World News Items
Russian President Vladimir Putin stated that "the US dollar may soon collapse." Russia (see Vladimir Putin: The US dollar will collapse soon), Europe (see also Russia interested in EU's PEPSI to help dethrone USA's dollar), and other nations (e.g., see BRICS vow to fight for a new world order and BRICS: Gentiles plan to break Ango-American dominance) are working towards a world without Anglo-American dominance. And such a world will come (cf. Revelation 13; Daniel 11:39) and be a time of trouble for those of the Anglo-American nations (cf. Jeremiah 30:7).
We continue to see anti-government protests in Hong Kong, France (see Anti-government protesters in France and Hong Kong) and Iran (see Ayatollah condemns protests in Iran; Protesters upset at gas prices and Iran's focus on Palestine). There have also been anti-government protests in Haiti and the Czech Republic. We also are seeing increased military action involving Israel (see Israel attacks Iranian and Syrian forces near Damascus; Is Isaiah 17:1 near?). We may be getting closer to the time of the ride of the red horse in Revelation 6:3-4.
In other prophetic related news, we are seeing reports that look to be setting up for the ride of the pale horse of the Apocalypse (Revelation 6:7-8). We are seeing more resistance to antibiotics as well vaccine-caused illnesses and unclean meat related deaths (see CDC: Antibiotic resistance increasing; China has confirmed cases of the plague). Our recommended sermonette for the week is related to that: Superbugs, antibiotics, and vaccines (after we produced that sermonette, it was reported that another person in China died of getting the plague from eating a rabbit (a biblically unclean animal). Furthermore, governments are actually considering using man-made infections to use in warfare (see DARPA: 'Militarized Microbes' To Spread GMO Bacteria). More deaths from pestilences are prophesied.
Pray for God's Kingdom to come as Jesus said in Matthew 6:10.
Suggested Sabbath Service
Here is a suggested Sabbath service for this week:
2-3 hymns (our songbook, The Bible Hymnal, contains the materials from the 1974 Bible Hymnal from the old WCG with new covers, plus ten additional hymns; there is also some Choral Accompaniment online).
Opening prayer.
Sermonette, which for most who receive this letter via email will be a recorded one. The one suggested for this week is: Superbugs, antibiotics, and vaccines. Other sermonettes are available at the Bible News Prophecy channel.
Announcements (if any; though for many it will be this letter) and one hymn.
Sermon, which for most who receive this letter via email will be a recorded one. The one suggested for this week is: Mysteries of God's Plan. Other sermons are also available at the ContinuingCOG channel.
Final hymn.
Closing prayer.
Note: If you have a slow internet connection, you can watch these by starting the video, then below it (and towards the right) look for an outline of a gear–if you click on that, it will allow the YouTube video to be played with lower video quality, but at least it will not stop often–you can select a quality as low as 144p. If your internet connection is still too slow (as my home one is) and/or you prefer audio messages to audio-visuals ones, go to the YouTube link for the message, click on SHOW MORE related to the description. You will then see something that says, "Download MP3." Below that is a link to an MP3 file. Most computers (and even some cellular telephones) will allow MP3 files to be downloaded and played. This is an option we have made available (but we are also looking into ways to improve that as well)–and, of course, we have written article options. Some people have found that if their internet connections are not fast enough, that they can simply listen to the messages that are found at the Bible News Prophecy online radio channel.
IN CASE YOU DO NOT RECEIVE A 'LETTER TO THE BRETHREN' FOR ANY WEEK, REMEMBER THAT THERE ARE MANY SERMON MESSAGES ON THE ContinuingCOG channel AND MANY SERMONETTE MESSAGES ON THE Bible News Prophecy channel. There are also some messages at the CCOGAfrica channel.
Concluding Comments
God's plan is a mystery to most. Notice something that the Apostle Paul  wrote about that:
25 Now to Him who is able to establish you according to my gospel and the preaching of Jesus Christ, according to the revelation of the mystery kept secret since the world began 26 but now made manifest, and by the prophetic Scriptures made known to all nations, according to the commandment of the everlasting God, for obedience to the faith —  27 to God, alone wise, be glory through Jesus Christ forever. Amen. (Romans 16:25-27)
The Bible tells of the mystery which has been kept secret since the world began. The Bible also points to the mystery of the kingdom of God (Mark 4:11), the mystery of grace (Ephesians 3:1-5), the mystery of faith (1 Timothy 3:5), the mystery of the marriage relationship (Ephesians 5:32), mystery of lawlessness (2 Thessalonians 2:7), the mystery of the resurrection (1 Corinthians 15:51-54), the mystery of God both of the Father and Christ (Colossians 2:2), and even Mystery Babylon the Great (Revelation 17:5).
Brethren, we are doing a work that helps manifest the prophetic scriptures and reveals various mysteries kept secret since the world began.
Sincerely,
Bob Thiel
Pastor and Overseer