The Bible Hymnal in Kiswahili
It has taken a lot longer than we originally hoped, but finally we were able to approve a proof of The Bible Hymnal in the language of Kiswahili today. We asked CreateSpace (an Amazon company) to send four dozen copies of them to Kenya to start. We hope that some will be able to have them prior to the Feast of Tabernacles this year.
We later expect to send some to Tanzania and probably elsewhere.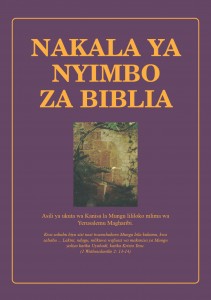 We would like to thank Aaron Dean, Mark Graham, and others at the United Church of God for their cooperation in providing us their translated music files. We would also like to thank Ondigo Ochieng of the Continuing Church of God for his translation assistance for the covers and a  Continuing Church of God introduction.
As far as Kiswahili goes, it is the language of the Swahili people. But many just call the language Swahili. There are 75-115 million native speakers and about 50-90 million who use it as a second language.  So, between 65 – 165 million people speak it. Kiswahili is native to Tanzania, Democratic Republic of the Congo, Kenya, Mozambique (mostly Mwani), Burundi, Rwanda, Somalia, Uganda, Comoros, Mayotte and the margins of Zambia, Malawi, Madagascar, and South Sudan. Kiswahili has been considered the 'lingua franca' in many parts of Africa, meaning that it is a language that many know, even though it is not their native language.
It is great that this songbook is now available. If you would like to see it, here is a link Nakala ya Nyimbo za Biblia.
On other songbook matters, John Owak is working on translating the full English version of The Bible Hymnal int0 the language of Dholuo. While it is not likely to be completed prior to the Feast of Tabernacles, we hope to have it available some time next year. Although a lot less people speak Dholuo than Kiswahili, most people in the Continuing Church of God speak Dholuo than Kiswahili.  But because we were able to get the songs already translated into Kiswahili, we were able to produce the Kiswahili songbook first.
We are also were able to make progress on putting together a type of songbook for Malawi and Mozambique in Chichewa. It is not as well laid out, nor as complete, as the English or Kiswahili versions, but it represents our first step to get those in Mozambique and Malawi something in Chichewa. I also plan to send one or more English and Kiswahili songbooks to Malawi when the Chichewa version is partially available to see if that will assist in getting a more complete and useful version in Chichewa. We hope to have more African languages someday.
We also are looking at one or more European languages to produce songbooks in as well. Maybe someday, we will have Asian ones too.